| | | | |
| --- | --- | --- | --- |
| | The Words of the Sutchar Family | | |

Pastors' Prayer Breakfast in Chicago
Bruce Sutchar
March 28, 2006
Chicago, IL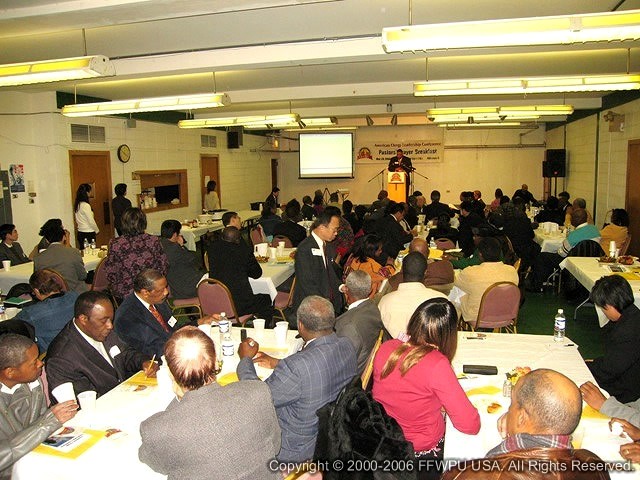 Chicago's first prayer breakfast of the spring was indicative of the new wave of what is happening in this age of Cheon Il Gook and in the Hoon Dok Church providence of the blessed central families. It was much more than a meeting or a breakfast and in fact was a culmination of a weekend of activities. God sent the Rev. Levy Daugherty to Chicago to participate in a series of evangelical church meetings. He was the guest preacher at the church of Rev. Willie L. Weston on Sunday morning and also participated in Rev. James Porter's Sunday Service, where Chicago's own Bishop Ki Hoon Kim was delivering the message. Later that evening he joined Bishop Booker Person for his evening anniversary service.
After this whirlwind series of Sunday services, Rev. Daugherty, in his capacity as the Secretary-General of the American Clergy Leadership Conference (ACLC), Bishop Kim, and several of our key ACLC pastors gathered together for a working luncheon meeting in one of Chicago's finest soul food establishments to get into the nitty-gritty of what the ACLC is all about. Physically, we met over grits, ribs, pork chops and yams, but spiritually we met on the foundation of the incredible work that Dr. Yang, Rev. Jenkins, Archbishop Stallings, Rev. Rawls and Rev. Jesse Edwards have been accomplishing on their back-and-forth evangelistic tour of America and the Middle East. We discussed the current ACLC membership drive and we talked very deeply about the meaning, the significance and the value of being a member of the ACLC. After 3 hours, we concluded with an agreement to re-group within the next two months in Chicago, together with our national co-conveners and state coordinators of ACLC to hammer out this spiritually anointed organization in much the same way as our founding fathers hammered out the founding of our national constitution and this great nation.
So it was on the third day of Rev. Daugherty's visit that Chicago came together for our March prayer breakfast. Our host was the president of the National Baptist Convention representing the great South Side of Chicago and Rev. Daugherty would be delivering the message to the assembled gathering. But before Rev. Daugherty would speak, Bishop Booker Person, a brother as strong in spirit as in body, rose to address the current changes in the direction of the ACLC. With national co-convener, Pastor T.L. Barrett and Chicago's co-convener Dr. A. Harold White both in attendance, Bishop Person read a 5-page speech detailing the changes that are now occurring within the body of the ACLC. (Authors note -- This is a document that every unification member who works with ministers must read)! Within the speech, Bishop Person read a new introduction to the Divine Principle that is being written by Dr. Lonnie McLeod. It is an incredible testimony to who our True Father really is and what exactly his relationship is with Jesus Christ and therefore with other Christian ministers. As Bishop Person read the 5-page speech, the spirit in the room reminded the audience of the spirit in the room when True Father was reading his speech during the 100 city speaking tour.
When Bishop Person concluded, Rev. Daugherty rose and delivered a powerful sermon to the assembled body. This was Chicago and the more Rev. Daugherty invested himself into his homily, the more he was received and greeted with shouts of AMEN! Hallelujah! and Praise the Lord! Upon his conclusion, Pastor Barrett would declare that Brother Levy had moved from being a Baptist preacher to delivering a truly Pentecostal Church of God in Christ sermon.
After remarks from Pastor Barrett, Bishop Kim rose to a standing ovation to give concluding remarks. Then the assembly dismissed, only to journey upstairs to Dr. Turner's beautiful sanctuary where they continued to fellowship in music and in conversation for quite some time.
Later that same night Chicago's Family Federation would gather under the auspices of Bishop Kim and Family Federation President/Hoon Dok Church coordinator Pastor Hans Rinkema for our March monthly meeting. Pastor Hans is the fourth Family Federation President in Chicago since 1995, succeeding the leadership of Rev. Jenkins, Rev. Bruce Sutchar and Rev. Reiner Vincenz. Due to his outstanding personal efforts in establishing his own Hoon Dok Church ministry, he has been appointed by Bishop Kim to coordinate Chicago's Hoon Dok Church providence.
This particular meeting was quite rich and meaty. About 40 members gathered together. First we heard testimonies from our CARP/STF leader Rev. Satoshi Iida and recent seminary graduate Rev. Lee who each had just returned from the most recent pilgrimage (#17) to Israel and Jordan. Rev. Peter Tonkumoh (the spiritual father of both Bishop Booker Person and Rev. James Porter) shared about the growth of the ACLC. Rev. Sutchar shared about the ACLC prayer breakfast and then discussion continued amidst the festive hors d'ouvres banquet prepared by our hostess, Mrs. Ilse Sutchar. Our gathering also celebrated the return of Chicago's native son, the Rev. Hitoshi ("praise the Lord"!) Onishi, who just returned to Chicago during his spring break from UTS, bringing 2 Japanese UTS students along with him. Our meeting concluded with a report from Bishop Kim concerning Father's activities in Korea and some choice internal guidance delivered as only he can. Bishop Kim, whose health continues to inch back up to the 100% level, shared with us as our elder brother; sharing his heart and his concern for each and every one of us. And as Rev. Daugherty said, just before he departed to return to his Washington, D.C., headquarters, "The success of Chicago is in direct correlation to the unity that Bishop Kim has been able to establish within the community in Chicago."
Thus we adjourned about 9:00pm (although many brothers and sisters continued to snack, mingle and share for quite some time) and journeyed home to prepare to celebrate the 47th True Parents Day the next morning.
God Bless you America!
Happy True Parents Day!
Happy Springtime!
Happy Daylight Savings Time!


Download entire page and pages related to it in ZIP format


Table of Contents


Information


Tparents Home