| | | | |
| --- | --- | --- | --- |
| | The Words of the Sutchar Family | | |

ACLC Chicago Prayer Breakfast
Bruce Sutchar
December 20, 2005
Chicago, IL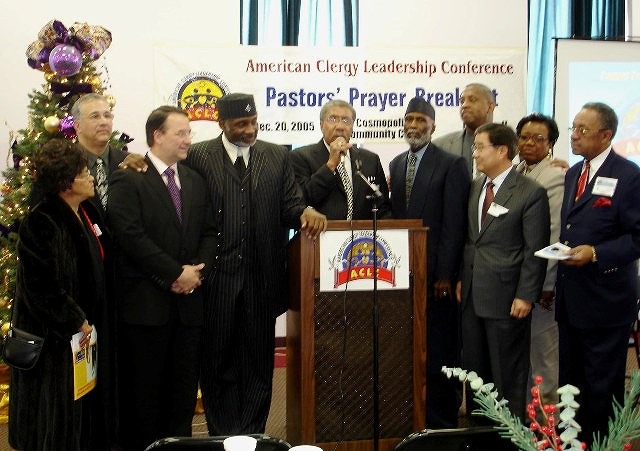 Chicago's final monthly prayer breakfast was held on December 20. This was our final prayer breakfast of the year and our own Rev. Michael Jenkins along with the pride of Selma, Alabama, Rev. Carl Rawls were coming to be our keynote speakers. On the foundation of our successful Women in Ministry Conference and our Ambassadors for Peace Conferences, Chicago was geared up and excited for the final conference of our 3-day convocation.
One exciting thing was that it was to be held in one of the nicest churches in all of Chicago. Cosmopolitan Community Church is pastored by the Rev. Henry O. Hardy, who had worked for many years side by side with the Rev. Jesse L. Jackson and Operation Rainbow/PUSH.
And not only was the church all that we expected (including an elevator to take one upstairs to the banquet hall) but Rev. Hardy himself had donned an apron and was serving the bacon and sausages to go along with the scrambled eggs, grits, rice and fruit salad available to everyone in the buffet line.
One point that our Chicago ACLC Co-Convener Dr. A. Harold White always makes in his capacity as Master of Ceremonies is that this is first and foremost a prayer breakfast. So immediately three of the pastors were invited to the pulpit to offer prayers for our city, our state and our nation. Next on the program was an incredible rendition of a Christmas carol sung both in English and in Japanese by our beloved sister Mrs. Kazumi Murray. After the standing ovation had settled down, Dr. White welcomed our new guests, most of whom had been invited by other pastors. Then Rev. Rawls talked about how serious we must be in our life of faith in order to shape the future of America.
Rev. Jenkins then delivered the keynote address with a mix of deep love for Chicago and a strong challenge to all those assembled to take responsibility for our nation and the world. He spoke strongly about the value of the blessing and shared both many tributes to the personal relationships that he had with so many of the assembled ministers and much about his spiritual upbringing during his 20 years in Chicago. Throughout the sermon, there was a deep comraderie with the members of the congregation.
Before calling on Bishop Kim to give concluding remarks, our national ACLC co-convener, Pastor T.L. Barrett, Jr. took up the offering and dotted all the i's and crossed all the t's in the program as only he can. He gave absolute respect and admiration for the leadership of Bishop Kim. Then as gracious as always, Bishop Kim thanked everyone for their continued support and efforts on behalf of Chicago and the ACLC.
Some reflections
One thing that really got me about this particular prayer breakfast is that everyone came-and I mean everyone! Obviously, some ministers miss some of the prayer breakfasts due to schedule conflicts, but not this time. In fact, I spent 90% of the 2 hours just walking around, shaking hands and greeting the ministers. I truly believe that there was a spiritual cause for this, and you could just feel the warm embracing spirit throughout the program. The room usually does not fill up until about 9:30, but on this day, nearly every seat was filled by 9:00 am when I first walked in.
The biggest victory
Shortly before Rev. Jenkins arose to speak, an amazing event occurred. Through the entry-way in walked the most significant, respected and revered Baptist preacher in Chicago (and certainly one of the most prominent in America itself), the Rev. Clay Evans. Rev. Evans was just a young pastor in Chicago when Dr. Martin Luther King, Jr. arrived, but he was one of the only few pastors that truly embraced him from the beginning. Although he has recently retired after building up one of the strongest churches and television ministries in America, his good health has allowed him to continue his preaching schedule as vigorously as ever. I mean EVERYONE knows and respects Rev. Clay Evans. But through all our years in Chicago, we have never been able to convince him to attend one of our functions. Then after Rev. Jenkins spoke, Bishop Kim invited Rev. Evans to give a few remarks. He did not speak for so long, but in the slow southern style for which he is so renowned, Rev. Evans gave a very deep message. He spoke about the true meaning of Christmas. He did not use any of the common catch words like "Jesus is the Reason for the Season," but rather he shared from his heart, about the real meaning of Christmas and the life of Jesus.
Home with family
There was actually a fourth event in the four days. For last night was our December Family Federation meeting. Bishop and Mrs. Kim hosted, and over 50 members and friends dined on a sumptuous Korean Thanksgiving Dinner. Under the guidance of our seasoned Family Federation President, Hans Rinkema, we sang songs, prayed and then heard testimonies and reports. Jhon and Marina Acevedo and David Rendel shared about the Ambassadors for Peace banquet, Chicago's patron saint, Mrs. Noriko Ogden, shared about the Women in Ministry conference and Bruce Sutchar was blessed to be able to share about that morning's ACLC prayer breakfast.
One sister shared about her experience at Father's tour speech in the Philippines and others shared about Sunday Service, Second Generation education and assorted other topics. Although the last several days had registered below- zero temperatures in Chicago, this night there was a warm "Christmassy" loving embracing spirit inside the home of the Kims.
So brothers and sisters of America. Happy Victory of True Parents' 100 city worldwide tour. Happy True God's Day 2006 See you in Israel. See you in New York and Washington. See you in Chicago. Great Victories in 2006. God Bless you.
Greetings from Chicago- the home of the 2005 World Champion Chicago White Sox!


Download entire page and pages related to it in ZIP format


Table of Contents


Information


Tparents Home