| | |
| --- | --- |
| | The Words of the Suda Family |
MBU Match report
Toby Suda
November 10, 2010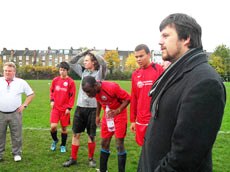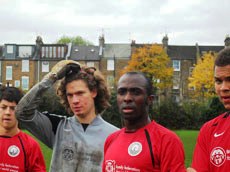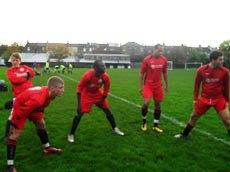 Athletico Brent Cross 3 -- Mind Body United 1
After a successful result in the previous game to give MBU their first win of the season, spirits were high as they went into this encounter against Atletico Brent Cross at Tufnell Park. MBU have never lost at this pitch in the whole clubs history. This fact added to the atmosphere before the game and you could see everyone was fired up to continue with the good form.
The game kicked off. MBU from the first whistle controlled the game with some nice passing and movement especially from central midfielders Chigo Ahunanya and Brendan Borg linking well with the right back Samuel Raynbird and right midfielder Seijin Thomas. It was only as matter of time before MBU's inspiring start led to MBU's first chance.
A typical clearance from defense straight to the experienced target man Kyung Baatenburg made the first threat of the game. Kyung using his chest to cushion the ball into his path as he effortlessly left his marker to turn and slot a ball out wide for Seijin -- our Theo Walcott, to race past their clueless left-back and put a deadly low cross from the byline into the box. Meeting the incoming ball was Mark Jubb and MBU's prodigy left midfielder Sammy Davis. Unfortunately, the pressure from the centre backs and the speed of the ball proved an obstacle to big to overcome and after a messy fumble the ball went out for a goal kick.
After an enjoyable beginning, the game started to get more competitive as Atletico wanted to make their presence known. After twenty minutes of exchanging possession from the two teams, the first goal game. A start that would predict MBU winners was unpleasantly ruined, a silly mistake from newly transferred keeper led to a sloppy goal which was all too familiar to the MBU players. A long ball played from Brent Crosses' defence bounced into our box as our keeper timed his jump awkwardly to see what should of arrived safely into his gloves instead took a detour over his outstretched arms and into the path of the striker who had a easy job passing it into the goal.
A dent in MBU's confidence was not apparent as they bounced back quickly. New foreign signing from Malta, Brendan put an inspiring ball through to Kyung as his excellent first touch rewarded him with a shooting chance which was not taken as well as planned, a centre back cleared it from the goal line and then another defender scrambled it away.
Time passed as Chigo and Seijin kept linking up well and appeared the main threat of MBU. After the mistake goal the defense picked up and especially Alex Fortune, put in some incredible challenges and clearances to boost the team back into the game.
Still early on, Chigo received the ball from the left as he delicately turned and tapped the ball past a flat footed Brent Cross player. He then served up an early contender for pass of the day as he released a terrifying thirty yard cross straight into the path of Seijin. Seijin then dropping the shoulder and running past the full back cut in to put a swinging cross which turned out instead to pelt itself straight into the top-left corner of the goal only to be stopped by a crushing save from the Brent Cross goalie as he rose like a fish to slap it away behind the goal. An unintentional shot was obvious as Seijin's face told us he didn't mean it.
Thirty two minutes in proved to be a bad minute for as the previous culprit of the goal as another sloppy goal went in against MBU. Their right mid tried a speculative shot in a last ditch hope as he was closed down quickly by nearby players. It should have arrived safely in Glen's hands but due to a boggy pitch and the wrong studs Glen slipped at a key time again to make MBU go two down and let in another cheap goal. Well at least MBU can be guaranteed that Alex Ferguson won't be nicking their goalie anytime soon.
With half time fast approaching MBU needed to get a goal to keep them into the game. Raynbird, the right back made a bombing run overlapping Seijin on the right and putting a beautifully curled cross straight to unmarked Kyung who had time to control but instead resulted in a hasty volley which went recklessly over the top of the cross bar and eased the Brent players minds.
Some good play continued especially with Sammy Davis stepping up in the last five minutes of the first half making his presence known. He continued in this way a few times putting some nice passes through to the striker and wingers yet nothing came of this. The first half then went to end with MBU 2-0 down in a game which they had majorly controlled.
The second half didn't have as much spice as the first half. A few shots from both teams went wide or over as both teams searched for goal. Finally the ice was broken MBU's most threatening player in front of goal Kyung stepped up and putting a wonderfully worked goal with his left foot assisted by Brendan from the left. The game intensified as now it was obvious that MBU could get back into the game. Nerves were starting to heighten as the drama continued. Freddie and Alex proved an outstanding partnership at the back but that was soon ended as hard working Freddie was subbed and replaced by Jono Jubb, while his brother Mark Jubb was subbed and replaced by Chris Chasseaud.
The game continued with not much happening from both sides. As MBU pushed men forward in a last ditch effort to grab a well deserved equaliser things worked the other way as they were punished by a quick counter without the men to help back in time. A ball neatly placed between the centre backs allowed the striker to have an easy opportunity which he surprisingly put onto the post but the danger wasn't gone as the rebound found a Brent Cross player who had no trouble from two metres to put it into the back of the net.
The game finally concluded 3-1 to Brent Cross and MBU's 100% recorded of not losing at this ground came to a halt. Although there were some good moments in the game, Manager Steven Huish and Coach Bernard Chellow will be eager to sort out specific points at training and hopefully prevent lack of concentration errors from being made again.