| | |
| --- | --- |
| | The Words of the Stout Family |
HARP Easter Workshop Reports
Gloria Stout and Chioma Ahunanya
April 26, 2010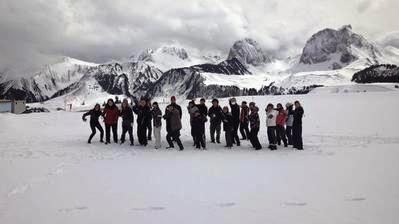 Switzerland Easter Workshop 2010 report
This Easter Workshop in Switzerland was kind of more like a Winter Workshop: a lot of snow (it snowed like 20cm per day). We played a lot with it: snow fights, building igloos, sledding with bin bags... Yes, more like a Winter Workshop but it was a Workshopome though. Even though we were like 25 people (Harp and Carp) and the Workshop was just 4 days, I think everybody enjoyed it a lot.
The motto of the Workshop was ''relationship'', so our goal was to build a good relationship between us, to be as a family. I thought it'd be kind of hard at the beginning because of the language and the difference of the age (HARP and CARP), even though almost all of us have known each other for years now. But it wasn't a problem.
We learned the importance of listening to each other and talking about our problems through the lectures given by the elder ones (20-24). We also talked about our own families and how to make a better relationship between siblings and especially with the parents. The games we played were funny and good (cards games, Uno, the parliament and on and on...). These games made us laugh but also helped to create a good atmosphere, it was awesome!
The food? Thanks to Gloria and her parents: The Easter Breakfast was unbelievable and we even ate fondue! Everything was really good.
So finally, this ''Easter'' Workshop was a great success in my personal opinion. We were just like a big family under God. So Thanks to God and Sunki and all the people who organized this Workshop. Thank you Lord, it was legen... wait for it... wait for it... dary!!! Hyo-Jun Millet
Malta Easter Workshop 2010
Gloria Stout
I learnt a lot of things on this workshop, and not just from the lectures. I learnt a lot about myself. I learnt that I am actually a really confident person (when I want to be), and I need to show it more now that I know how; also, that I really love to laugh, I like being happy. It's a good feeling and I just don't let myself do it sometimes. I want to take this confidence I have found, I want to remember how much fun I have when I actually talk to people and have fun with them. I have pretty much shared everything but I would like to say thank you to everyone who helped make this workshop a success.
I'm not really good at writing testimonies by the way but here goes:
This was such an awesome workshop! Everyone became one big family and so we all had so much fun together! I learnt a lot about myself; knowledge that I can use to make myself a better person. It was just so perfect!
Chioma Ahunanya
I enjoyed the whole workshop, especially the lectures. For the other workshops, there could be games that let us learn and also have fun. I learnt a lot of things about True Parents, confidence, truth, love and faith. The lectures made me understand the world we live in now. The workshop was very moving and spiritual that taught me a lot, like the understanding of the Divine Principle, God's love for me, The 4 Great Realms of Heart and the 3 Great Kingships.
E. Iversen
I was really excited to come to Malta for this workshop. I wanted to support the Irish that were going to enjoy the warm weather and finally, meet the Maltese community who I have heard so many good things about. At the time of the workshop however, I felt I had a lot on my mind and was kind of unable to concentrate or focus properly, therefore I was unsure about being team leader. I think being team leader was the first step to come out of my own selfishness and focus on my team and then eventually on everyone else, which is what happened.
I really enjoyed and appreciated being part of the 'staff' meetings in the evening as it felt that I had some input. The lectures were really new and interesting and they made me think a lot, especially about how the world really can and needs to change. Also because I could get to know Tinko better as a person and his heart as he expressed in the meetings, I feel I could appreciate everything more.
The workshop felt really short but it was very sweet (he he). The people made it for me. I was overwhelmed by how welcoming the Maltese were to us, invading their country! And there was definitely a high energy throughout the workshop. I really appreciate all the hard work everyone put in, and I feel like I could gain some kind of spiritual recharge during this time. Thank you.