| | |
| --- | --- |
| | The Words of the Stephens Family |
Religious Freedom and Unbreakable Faith of Toru Goto
Miilhan Stephens and Victoria Roomet
September 20, 2009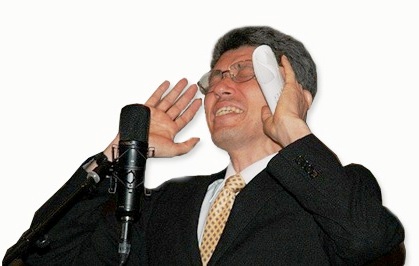 Mr. Toru Goto shares about his personal experience of religious.
On the evening of September 20, 2009, the University of Maryland Collegiate Association for the Research of Principles (CARP) Chapter and the Washington, DC, District Young Adult Ministry program, Sunday Night Lights, worked together to host an event bringing awareness to the religious persecution taking place in Japan. Giving the keynote speech was Mr. Toru Goto, a Unification Church member who has experienced religious persecution first-hand. He was kidnapped, tortured, and confined for twelve and a half years in an attempt to force him to recant his religious beliefs.
One hundred students gathered together on the university campus to hear the incredible testimony of Mr. Goto. He shared honestly of his emotional and physical struggles during the many years of his confinement. One of the greatest pains in his heart was the fact that it was his own family who had kidnapped him and was responsible for the physical and psychological abuse that he had to endure. Mr. Goto's older brother and younger sister had been Unification Church members but came to work alongside a deprogrammer in an effort to break his faith.
Enduring through the constant torture of being beaten, having close friends condemn and disparage him verbally every day, and being starved, Mr. Goto remained true to his religious beliefs. After realizing that his faith could not be broken, his family and the deprogrammers gave up and threw him out onto the cold winter streets.
The audience was filled with a high spirit of unity and a strong sense of identity as Unification Church members. Mr. Goto beseeched the college students to please share this story with others. He expressed how even now there are others in Japan who have been kidnapped and are experiencing torture and deprogramming.
The evening program was graced with music from Mr. Ben Lorentzen, lead performer and vocalist of the Lovin' Life Ministries band sent by Rev. In Jin Moon to support this event, as well as Ms. Kiah Victoria, a former Broadway singer, who warmed the hearts of everyone. Furthermore, the Sunday Night Lights band offered three beautiful musical performances, creating a wonderful harmony and uplifting atmosphere.
In addition, Mr. Hero Hernandez, CARP's National president, shared the new vision and direction of CARP, explaining how it will focus on three main agendas in becoming a relevant organization for students: nurturing a spiritual life, helping members excel in academics, and creating a generation of peace. CARP's perspective, which upholds the Unification faith, believes that each and every person has a divine value and amazing potential given by God. Mr. Hernandez shared that CARP will take a stance in protecting a person's sovereignty and right to pursue that value and potential; thus CARP supports religious freedom.
Mr. Goto's visit to the University of Maryland campus was a blessing to the student community and an opportunity for the many young Unificationists to open their hearts and minds to supporting their brothers and sisters in Japan.
On the evening of September 21, 2009, Mr. Toru Goto made the second stop on his campus speaking tour at the University of Bridgeport (UB). His address was preceded by a welcome delivered by the MC, Namhi Hwang, an active member of the Bridgeport Chapter of the Collegiate Association for the Research of Principles (CARP). Mr. Hwang introduced the president of the University of Bridgeport, Mr. Neil Salonen, who delivered some opening remarks, including his observation that this particular message delivered by Mr. Goto would be an "opportunity to examine the importance of protecting the freedom of every individual."
Next, Hero Hernandez, the National CARP president, again shared with the Bridgeport audience his conviction that the tragic situation of deprogramming and coercive conversion in Japan is something that CARP members everywhere should address. He proclaimed, "CARP believes that every person has the God-given right to pursue the faith of their choice, and we should step in and defend this freedom," stirring a strong sense of activism in the audience of 120-plus members of the Bridgeport community.
Mr. Goto again enraptured the entire audience with his incredible testimony of how he endured 12 years and 5 months of captivity inflicted upon him by deprogrammers and his own family simply because he chose to believe in the Unification faith. Mr. Goto moved the audience to tears when he reenacted his screams and his resistance in a desperate, yet futile, attempt to be saved, further reinforcing the severity of his situation.
Kareama, a sophomore at UB, said, "I could feel his pain when he was screaming; I could picture it in my mind." Perdita, a junior at UB, was moved during the parts of his testimony when Mr. Goto expressed his emotions. She said, "When he was screaming at the top of his lungs, the pain was so evident, and his frustration at the system was so evident. That touched me a lot."
After his testimony was over, the entire audience gave him a rousing round of applause and a standing ovation. Everyone was so moved, not only that Mr. Goto survived this ordeal but that he gained the strength to raise awareness about this pressing issue to help end this problem in Japan and elsewhere. Mr. Goto united the hearts of the members of the UB community to rally behind this cause so that no one else has to suffer for practicing his or her unalienable human rights as a citizen of this world.
Mr. Goto's address was followed by a response from Professor Kurt Frey, who teaches social psychology at the University of Bridgeport. He prefaced his response by stating, "Mr. Goto's testimony requires more than an academic response; it requires a human response." Therefore, Dr. Frey gave a "response from the heart," hoping that Mr. Goto's testimony "will bring about consciousness, awareness and reform of this kind of practice of forced coercion." Dr. Frey expressed great respect for Mr. Goto, "who with so much integrity and courage has stood up for what he believed and endured until the end." He mentioned the need for addressing the criminal deprogramming that is happening in Japan, particularly, he felt that as a social psychologist, he should be on top of this issue.
Dr. Frey continued to explain the concept of "brainwashing," making it very clear to the audience that it is, in fact, a myth. Furthermore, Dr. Frey clarified that "brainwashing techniques, which include total control and isolation, physical deprivation and exhaustion, confusion and uncertainty, attacking one's personal beliefs and their ideological faith, guilt and humiliation, release and resolution, are found to produce, at best, compliance." He noted that "deprogrammers utilize many of these techniques of coercive persuasion in order to undo presumed brainwashing."
In closing, Dr. Frey took a stand, proudly representing the field of psychology, to make it clear that brainwashing is a myth. He expressed that it is his great hope as a psychologist that "the field of psychology, which is inspired by God, will not give any support to the attacks on religious freedom and will join the forces to combat practice of deprogramming and forced coercion." Dr. Frey's response was followed by another wonderful musical performance from Ben Lorentzen and then some closing remarks from the MC.
The program inspired the members of the University of Bridgeport community to stand up, just like Dr. Frey, against the injustices that continue to happen in Japan to this very day. Kareama, a sophomore at UB, felt very strongly about human rights violations. She said, "I believe everyone should be allowed to have their own opinions, rather than being forced into something, because then you never really believe it, anyway." She continued to mention the steps that she will take in combating the issue, which include raising awareness.
Glori, another sophomore at UB, had similar feelings, saying, "The fact that he was in there for over 12 years is hard to wrap your mind around, especially with his family living right next to him." She continued to express that hearing about his situation made her feel angry because he was not able to freely practice what he believed in, but at the same time she felt "really inspired that he kept his faith."
Perdita, a junior at UB, said, "There were so many moments during his speech when I was tearing up; not only have I not heard about his story but I never knew it was happening in Japan." She was shocked to learn about how recent this issue is and that it is still continuing to this day. Coming from Bangladesh, which is not too far from Japan, she said, "I feel that a lot of people don't even know about the situation" but continued to declare, "I can make my people aware about this situation and they can stand up for this. This is something I am definitely going to do tonight!"
Written by Mr. Miilhan Stephens, Maryland CARP Chapter President and Ms. Victoria Roomet, CARP Volunteer