| | |
| --- | --- |
| | The Words of the Stephens Family |
Report on Parents' Matching Convocation
Jim and Hiromi Stephens
November 4, 2007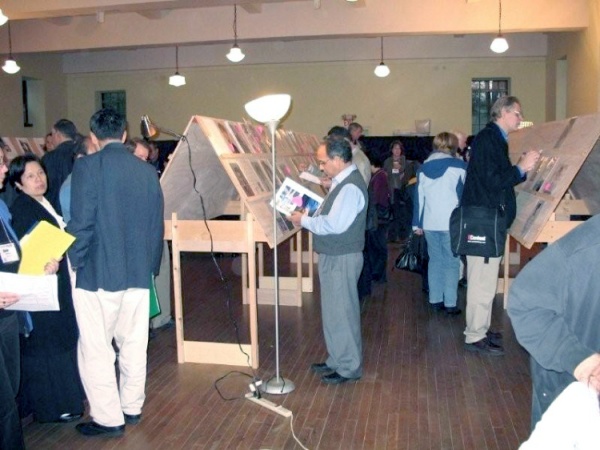 The third Parents Matching Convocation in North America was held on the last weekend of October, 2007 at the Unification Theological Seminary. 210 parents attended. 64 couples and 82 individual parents (146 families). There were approximately 325 photos and profiles of candidates on the display boards (which were the original boards designed and used by True Father at Belvedere).
Both our Continental Director, Dr. Chang Shik Yang and our National President Michael Jenkins were able to attend briefly and provide a warm welcome and inspiration for the participants to start this most meaningful weekend.
The program consisted of a number of educational presentations and testimonies from the Second Generation Department and the Blessed Family Department. There were many networking opportunities to help parents get to know other parents that they did not know before and to also renew old acquaintances. Two panel discussions were held. One was Second Gen. talking about their experience of the matching and the other was a panel of leaders from America and Europe answering questions from the audience.
For a more detailed report, go to www.familyfed.org/bfd/PMC/PMC3-report.htm. Photos at the Convocation: www.familyfed.org/bfd/PMC/pmc3.htm
Reflections from some of the participants
Itís so valuable to hear the guidance of the Blessed Family Department and 2nd Gen. Department at this conference. Please encourage all Blessed families to attend whether their children are ready or not. - L.Z.
---
What new realizations or inspirations came to you during this week? The need to look at the process from the point of view of our BCís as well.
Comment: (It was) Outstanding -- a step forward from last yearís convocation. Anyone who even thinks about matching their children needs to attend one BEFORE they go one step in that direction. - S.Q.
---
What new realizations or inspirations came to you during this week? More than ever, I was proud of our members and what weíre done.
Iíve been in Alaska for 20 years. I feel our community, as demonstrated in the convocation has really matured. For the first time I feel confident that we will have a very positive impact on the world. - C.F.
---
I got more than expected; met God, got several tangible possibilities for my son. - H.S.
---
(It was) An invaluable opportunity to meet with other parents and to participate in a journey toward forming a clean procedure to matching our children and expanding the heavenly lineage. - V.Y.
---
Please encourage all states, cities, and districts to have all parents put their information on the BFD website about where their children are attending college and to encourage BCís to go to colleges together for spiritual protection. - K.H.
---
What was the primary reason that you decided to come? Are you satisfied that it was fulfilled? This is our first time; we needed the framework, process and to make contacts.
What was the most valuable aspect of the convocation for you? The environment that was created to learn, visualize and empowered us - A.J.
---
Are you glad you came? Was it worth it for you? AND give it an overall rating from 1 to 10. (1 = useless, 10 = priceless) I am glad we came to meet many people and learn of ways to connect to others for matching, I feel empowered - Anonymous
---
Practical and inspiring at the same time. Very helpful. - J. and C. W.
---
The Parentsí Matching Convocation is invaluable for parents to stay connected with the matching and Blessing process, to obtain essential education, and to find potential matches. - M. and R. M.
---
The conference allowed for 3 minute speed meetings which added a new dimension to the workshop as a whole, facilitating meeting new people not normally met. - M.D.
---
If you feel you are totally clueless and in the dark about how to begin to match your children, I highly recommend that you attend a matching convocation. It is the best starting point. - D.D.
---
Informative, thought-provoking, necessary -- gave me hope. - T.L.
---
This program is a must. We learned a lot from the experiences of those parents who went before us. - J.J.
---
Donít wait -- I recommend that every couple attend before their children say they are ready to be matched so that you as an individual and as a couple are ready. - P.T.
---
Thank you for providing concentrated, concise, valuable information in 1 hour segments and for being sensitive about the lengths of the breaks in order to network digest, rest. Good to end official programs early each night as you did for 1) "aging" moonies 2) more networking. - L.H.
---
This yearís matching convocation was a breath of fresh air. To be in an environment with other like minded parents who are serious about matching their children was a blessing and inspiring experience. - B.S.
---
Thank you for providing all practical guidelines for me as a beginner of match making process. I have learned that family unity is the key to bringing satisfactory results. - H.N.
---
All in all I was so very awesome and Iím eternally grateful for your investment. - D.H.
---
Thank you very much for an excellent, well run and inspiring weekend. You have become very proficient in this critically important ministry. Thank you for the respect you have shown for the time and capabilities of our Blessed Couples.
Participating in these Matching Convocation is essential for those parents who intend to match their Blessed Children. I expect we will be at every Matching Convocation until each of our four children is matched. We will recommend the Matching Convocation to all Blessed Families in Massachusetts. - J.E.
Jim and Hiromi Stephens