| | |
| --- | --- |
| | The Words of the Spurgin Family |
Why Blessed Family Journal?
Nora Spurgin
March 1985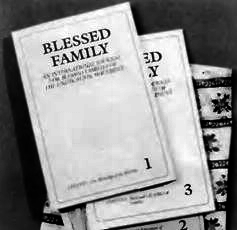 The written word plays an important role in our church life and its message needs to become deeper and more internal as we acquire greater spiritual and emotional maturity. As we broaden our understanding of life, our life of faith requires guidance and inspiration in keeping with our growing sphere of experience. As we create our own homes and separate from the church "womb," we require new sources of nourishment.
Rev. Kwak has seriously reflected upon the potential of our publications to help educate and nurture our church membership. Taking into account Father's concern that we establish a solid church tradition for blessed families in this generation, Rev. Kwak and I conceived an idea for a new international publication for blessed families of the Unification Church, the Blessed Family journal.
A Traditions Reference
Until two years ago, we were a church body made up largely of young people who were still single. Our lifestyle was simple and focused on a specific mission. The tradition was uncomplicated as well. Built into this lifestyle were methods of nurturing and faith-building such as morning service, prayer meetings, public activities, and weekend workshops. Give and take with brothers and sisters in center life could also stimulate the growth process.
With the Blessing and the establishment of families, this simple lifestyle disappeared and we had to take more personal initiative in nurturing our faith. God is now calling us to a deeper faith, one which requires us to be self-generating and self-motivating. Therefore, guidelines become even more important.
Rev. Kwak as publisher and I as editor of Blessed Family hope this journal, as a companion to the forthcoming The Tradition -- Book I, will expand our understanding and application of our church traditions.
An Educational Tool
Those couples who are pioneering the way and setting a tradition in states and in foreign countries by themselves will find Blessed Family a good source of educational material. It provides an opportunity for our elders, leaders and members to share insights and practical guidelines. For example, members who are forming and teaching Sunday schools can share their curriculum and teaching aids with other teachers around the world. Those who have done research or written papers on topics that can provide spiritual help can share them through this journal.
A Nurturing Source
We often long for the kind of deep internal guidance which Father gave to our elder brothers and sisters in Korea, or which the 36 couples gave in morning service, or which Mr. Sudo gave in the training sessions. Printed in the Blessed Family journal, this inspiration and guidance can be at our fingertips in our own reference bookshelf!
We have chosen to use a theme for each issue, thus making information easy to locate. For the first year we chose the topics: The Meaning of the Blessing, Shim Jung Education of Blessed Children, Spiritual Family Life and Korea, Home of our Tradition. This way we can cover each topic more deeply.
A Sharing Experience
As early members of the American church, we all shared with each new member our experience of finding and then responding to the Principle. I realize that such testimonies were a very vital part of my spiritual growth. I am sad that we seldom take the time now for this kind of sharing and that few of the members have come to know these "old time" stories.
Because of the value of personal experience as a part of learning, we include such personal testimonies in each issue. Areas of concern such as child rearing, where our pioneering elders have much to teach us, are covered.
Also our home church work will require that we become spiritual leaders and model families in our communities, in whatever part of the world we may live. We must continue to deepen our faith and to share it in our area of influence. Without a life-giving source such as this publication, families face the possibility of spiritual isolation.
An Information Channel
There is a rich source of additional information available in Christian literature, self-help books, inspirational books and instruction manuals. Therefore we try to include reviews of helpful books, including not only a critique of the book but also some of the contents, so that those who cannot purchase the book can still benefit from it.
In counseling members, we are also aware of the many questions which arise and the need for standard answers. Sometimes it is not easy to ask a sensitive question; sometimes it is difficult to know who to ask; sometimes it is hard to get a clear answer. Therefore, each journal addresses several such questions. In this way all couples can have access to the answers which Rev. Kwak can obtain from our True Parents.
In conclusion, it is my hope to make this journal a definitive resource and indispensable part of every blessed home. Because it is an international publication, we make an effort to print materials which are applicable everywhere. Blessed Family will supplement national Blessing magazines with timeless materials which can help standardize the important traditions of our movement.
Last of all, please let me know what questions you might have and what you would like to see in these journals. What books do you suggest for review? Do you have any materials you would like to submit? We would be most eager to consider for publication materials submitted from any part of the world.