| | | | |
| --- | --- | --- | --- |
| | The Words of the Song Family | | |

European Leaders' Meeting Closing Address
Yong Cheol Song
February 22, 2004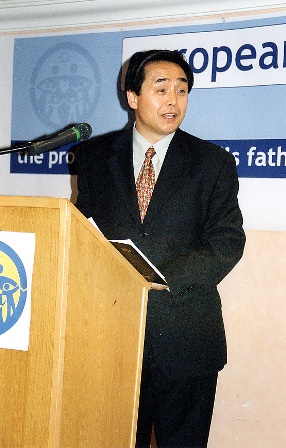 I am so happy that I could see those who could come together as husband and wife this time. Probably you could not go to your honeymoon after your Blessing so you came here for a honeymoon.
When I have to give such a speech I am always thinking, "What would True Father say if he were here with us. What would he like to say to you?" I am thinking about True Parents' key message for 2004, how to unite with them and let the providence be successful. If True Father was here he would possibly ask, "do you recognise the importance of the time we are living in?" – "What identity do you have – do you truly understand that this is the most precious time in history. One day is like a thousand years."
Our life is so precious connecting with the past and future. It is so precious that we met True Parents and are living together with them, receiving their guidance and message. Let us think once again how precious we are and how important the time is we are living in. True Father has declared that God's Fatherland and the Peace Kingdom have come. They are at the beginning and we have to substantially realise them. Father has a strong hope and will that by 2012 we will have truly established Cheon Il Guk, God's Fatherland and the Peace Kingdom.
The representative of True Parents – "daeshinja"
Tue Father told us that each one of us should become the representative of True Parents – "daeshinja". True Father is truly hoping that we will inherit his messianic mission. He is the Third Adam, we should inherit and all become Fourth Adams. Many times recently True Father asked us to pledge to become his representatives and to become even greater than him. He really hopes that we will become greater than him, inheriting True Parents' victory, ideal and will – so that we can live in God's Peace Kingdom.
I thank you for all the wok done this last year. You supported True Parents even though it was very difficult. When those who participated directly in the providence in New York and Israel came back, I saw that they had returned home inheriting True Parents' victory and foundation. When I see you full of spirit and you keep expressing that you understand True Parents' providence, I am hopeful that 2004 will become a victorious year because you have returned with Tue Parents' heart, will and ideal.
When TF talks about "daeshinja", I understand that we have to live like True Father. He invests so much, even though he is 84, working so hard and making so much cheong song. He talked so long when he recently met with Japanese members from 2 pm to 4 am and again at 5 am and then back to Hannamdong. He told us that he had invested to such an extreme degree that he almost collapsed.
The leaders of the providential organisations in Europe and many city leaders are gathered to gather here at our European annual Leaders' Meeting. Let us truly become like True Father as true sons and daughters resembling him. We have the mission to become mature 4th Adams.
I want to encourage all of you to live your life like Tue Father in 2004. If we constantly engage in teaching and education, as True Father does, people will follow us and this will become a very successful year.
I and the Regional and National Leaders and all the leaders here should lead our life like True Father and become his representatives, totally involved in teaching Divine Principle. Father invests ten and sometimes more than fifteen hours a day to educate. I do not want to see you sitting in the office engaged in administration. Whoever you meet, youth or VIPs, talk about the eternal truths, the spirit world and become Father's representative - one mind, one body and one mindset – one heart with God. I, as Continental Director, would like to lead such a life and ask you to do likewise. Then I am sure that our Movement will change and develop.
Father talked about revolution. I, myself must have a revolution to change. You change too and then brothers and sisters will have a revolution and other people will follow.
Letting the Word Flow
At breakfast in Korea this time Father asked Pres. Hwang if he would prefer to be called 'President', one who sits down and organises, or if he wants to be called educator and teacher. Then he looked at me and asked the same question. Please understand this – each of us should be engaged each day in how to meet people and teach them. I do not want to use the word 'witness' because for many of you this relates to an outdated concept. Father wants us to be totally engaged in teaching.
Wherever I travelled in Europe until now I spoke about Cheong Sung but especially I talked about 'Letting the word flow'. If it flows and flows we will have new life and others will have new life from us. Father always lets the word flow. Hoon dok means the word flowing like running water. Our life is the life to be lived with God's words. Let them flow to our mind, then our body and then to others through our teaching and education.
Tongban Gyokpa – Tribal Messiahship
True Father has now sent United Nation Peace Ambassadors to the seven providential nations, including Israel and Palestine. We already have Peace Ambassadors here who have been sent by Father. Do you know what mission Father gave to them? I was surprised when Father gave them the direction to find blessing candidates rather than visiting Embassies. He said they should teach the youth and guide them to the Blessing. By April they should find candidates and 120 by the end of the year. Let's think deeply about this and consider the underlying meaning. I am sure Father expects all of us to do the same.
Last night I talked to Korea on the phone and found out that only one third of church and organisational leaders remain in their missions. True Father directed the other two thirds to pack and go to their hometowns as representatives of True Parents and to do Tongban Gyokpa and Tribal Messiahship.
If True Father were here he would have a lottery dividing us into groups of blue, red and black. The blue group would remain in their missions, the red and black groups would be assigned to go to their hometown. He knows that this is the way the providence develops and the Peace Kingdom is to be realised. We do not understand, but please take one more time a deeper look again and take it seriously. Even consider to retire from your work and do Tongban Gyokpa.
If we are living like True Father, always teaching, I am sure we will accomplish Tongban Gyokpa and fulfil the Tribal Messiahship.
Do not follow the money, but let the money follow us
Have the life to let the word flow all the time. I am very concerned that in some countries those who have public missions are engaged in outside work – even national leaders in Eastern Europe told me that they are going fundraising for 40 days for their family expenses. Ideally they should be totally focused on teaching but because of financial difficulties it is not like that. Therefore my other message is, "do not follow the money, but let the money follow us".
I hope you understand what that means. True Father never checks what money is available first before making the plan. He is just thinking how to save the world and young people, then the money will follow. I have a strong belief that in the future the governments will fund us – it is already happing in several nations in Europe, centring on specific projectd . Once they understand what you are doing they will support unconditionally. Service projects are very important to attract this support.
Brothers and sisters in Europe are having dreams of receiving great blessings
This morning I spoke to my wife on the phone. She told me that she had a very precious dream. She dreamt that she delivered two turtles. The meaning of turtles is bringing great fortune. Soon after she delivered two bright, shinning sons. She woke up and thought, "what does it mean?"
When I went to New Zealand, my wife had to organise how our family would get a visa. That night she had a dream. She was pregnant but the baby was stuck and could not come out. Later at our first interview for a visa we did not have enough condition to succeed. Three years later she had a dream that she delivered a baby and we successfully got the visas.
Now more and more brothers and sisters in Europe are having dreams of receiving great blessings. I am sure that God has such a plan, but we have to let the dream be realised. Like Father said in his speech in Hannamdong, we have to take action to realise our dreams or they will not become real.
Along with you I would like to move the providence rapidly forward. In March we have planned a VIP conference. I do not know how the money will come. But we planned, invested and we let the word flow, than the money will follow us. This year let us follow this motto - do not follow the money let the money follow us. This is the year for us to stand and live like True Parents.
However at this stage fundraising will be our first method but later we will develop many ways and money will even come from governments and the UN.
Communication System
We have an internet newspaper now. It is at the beginning and will take time, but in the future so many people in Europe will click on our paper and see the importance of our work.
Finally, we have to establish a good communication system. Your reports should not just be at the end of the month when the news is old. Report all aspects of you work and let your work be known to everybody. Do not just report to me, let it be for everybody. I was happy we could all share our reports this time. We all pledged that this year we will create a good communication system, responding quickly to the European HQ and immediately reporting about our activities. One of my missions is to report to Father and to let him know that we are representing True Parents and working like him. I want to send reports immediately all around Europe and spread your work so that we encourage each other – we are one and work for the same goal.
Second Generation
I have received so much hope from the 2nd generation. I am proud of them and I believe the European 2nd generation is healthier than any other region in the world. If we live like Father our children will follow us and inherit the tradition. We have to continue to invest in educating the 2nd generation.
Cheong Sung
True Father shows us what Cheong Song life means. Recently in Hannamdong at breakfast I experienced Father sharing about his visit to North Korea. In the parliament he was not supposed to give a speech, but he stood up and gave a one and a half hour speech. "Your Juche ideology is wrong, Godism is right." Later Father was in Hungnam with Kim Il Sung. After a long meeting they went to the banquet hall. Father took Kim Il Sung's hand. Never before did Kim Il Sung hold hands when taking a photo or walking. Father shared that Kim Il Sung tried to pull his hand away, but Father hung on too strongly. He would not let go, never. You can see it on the photos of the time and understand the meaning behind.
Father's will is so strong. It was like Jacob and Esau. Father could succeed because of his Cheong Sung effort. All his life without stopping True Father has his own providential schedule. One morning he said, "I have to go to Yeosu". True Mother suggested staying till later, but Father said he had to go on the morning flight. He is fighting with time and seriously making conditions.
Thank you for all your Cheong Song. Please understand that all the conditions we did until now are never lost. You helped Tue Parents for the 4th Israel, the Peace UN, and Jesus' coronation and now our 5th condition directly relates to the Peace Kingdom and to welcome True Parents to Europe. Please continue the Cheong Song life for the sake of your family, children, nation and world.
When I met brothers and sisters, so many thanked me for these conditions. The Cheong Song condition is not bowing it is to reach to the level that the Spirit World is mobilised, where we live like True Father, educating and teaching. Let's continue till we meet True Parents in Europe. Joseph had to wait and keep his dream, working hard till they became a reality. We will keep it till True Parents come to UK, Germany, France, Albania and all your nations. Let your dream be realised through your action as Father said at Hoon Dok Hae. Even if you did not personally have a dream, support that dream and welcome True Parents overcoming Schengen.
Thank you for all your work. Truly I feel, when I listen to your testimonies that the time has come. You achieved so much what other religions or organisations could not do. I am happy to hear in the UK that you could educate so many Christian ministers. When we work for the nation the patriots will come down and work with us, when we work for the world the saints will come down, when we work for God, God and the angels will come down and we will achieve our dream.
Let the dream be realised by our action in 2004 – let us be representatives of our True Parents and 4th Adams.
Thank you. Join me in payer.


Download entire page and pages related to it in ZIP format


Table of Contents


Information


Tparents Home