| | |
| --- | --- |
| | The Words of the Song Family |
Opening Speech European Leaders' Meeting
Yong-Cheol Song
February 20, 2004
Malaga, Spain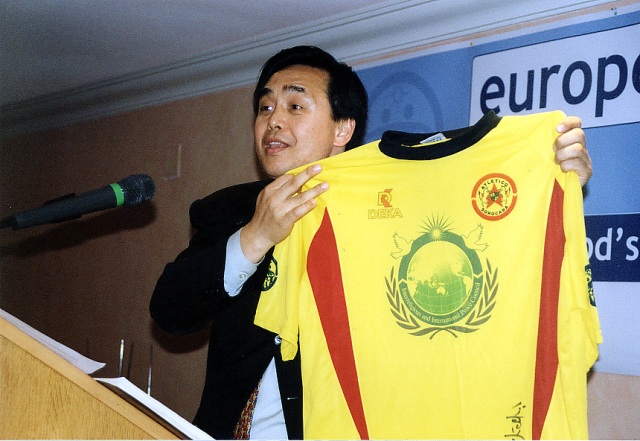 We had a regional leaders meeting yesterday, and each one of them gave me such a wonderful report. Again they gave me a lot of support for this year 2004.
Report on True Parents' Birthday Celebrations
First of all I'd like to give a report, as I attended True Parents' Birthday Celebration, and also World Summit Conference this time in Seoul, Korea. I'm sure you want to know. Actually, it was the first celebration after True Parents declared God's nation and the Peace Kingdom. I felt that this celebration should be on a different level, and TP should be received with great honor and glory from all around the world. So, I was very glad to see many participants from Europe. Although they were not the heads of state or top government figures, however to me they were the most important VIPs among all. I was so happy to see all the VIPs, the Peace Ambassadors who came to Korea to congratulate True Parents' on their birthday this time. Thanks for all the effort you made, especially for True Parents' birthday and the World Summit meeting.
Well, among the many remarkable and important leaders, there was one man who represented all the current heads of state from the whole world, and he offered great respect and glory to True Parents' birthday. He is the President of Palau. As you know, I met him when True Father told me that within the next 3 days I would meet a very important person. He got connected, the National Leader and National Messiah worked hard to raise him, and now he is working for True Parents. I was very happy to meet him again. He was invited to Hanamdong, there Father educated him for more than four hours.
I was also very happy to see the Vice President of Zambia. When he attended the UN Assembly , he was very inspired, and he wanted to meet Rev. Kwak. He wanted to know whether he should run for Presidency or not, and he tried to get an answer from Rev. Kwak or Father Moon. Now he is working as the Vice President of Zambia. I could see that he truly respects and understands what Father has been doing and what Father's vision and ideal are. I heard that now he is organizing to invite all the heads of state of Africa to Zambia to have a conference together with the government of Zambia. He wants True Parents to come there. I was very happy to see such a person, who was raised by the work of IIFWP, and is now working for the government to save his nation. He has the vision that True Parents' message should be spread over the whole of Africa. In his speech he determined to invite and welcome True Parents to his country Zambia. So, this is definitely good news! Some other Presidents were supposed to come, but in the last moment they could not make it, for example the Prime Minister of Samoa. He could not come because of the funeral of a government minister. The Prime Minister of Solomon Islands also had urgent matters, but he promised to come next time.
Providence of Yeosu City
I had the privilege of receiving True Parents' grace and was invited to Breakfast with True Parents after morning Hoon Dok Hwe. There, suddenly True Father asked me: "Have you ever been to Yeosu?" Yeosu is a city located in the South West of Korea. I had not been there, same as all the other continental leaders. So, Father said: "Then, I'd like to take you to Yeosu. It is good to know, and then you let everybody in your region know about what is happening in Yeosu." Yeosu City is a beautiful city. Many newspapers in Korea reported about what Father is doing now in Yeosu. In the last year, Father made a lot of Chong Song and asked the leaders to find out what the best place would be for him to begin the Ocean Providence. After searching and searching for seven months, Yeosu was recommended to Father. He went there and decided that this was the right place. He purchased a big section of land. Last year, when I first heard that again Father invested a lot of money, I was a bit concerned, but now there are very good news. After Father invested and made his plan, this year the government announced the Yeosu area to be a special free trade zone. The Korean government had held a competition between many different cities and nobody had expected that Yeosu would be selected. Since then, the price for the land has gone up more than ten times. If we sold it now, we would make big money. It is a beautiful city, so many newspapers question why, after Rev. Moon invested, the government followed. The government is going to invest a lot of money in this city of Yeosu. This was great news, so True Father spent many days with us in Yeosu city. I was very grateful to be there.
True Father's Soccer Teams
I'd like to share about some other news. Did you heard about the soccer teams in Brazil? We have two professional teams; one of them is Sorocaba, close to Sao Paulo. Three years ago, Father purchased this Sorocaba soccer team. It was in the third league at this time. In Brazil, they have 6000 professional teams. After one year, it jumped into the second league. After one more year, it jumped into the first league. This team is called "Reverend Moon's team" by the Brazilian people, rather than by its real name. This is good news, right? Father asked me to announce this, he even said, "That is why I brought you over here." The Sorocaba captain was there, too. Can you imagine that out of 6000 professional teams, it jumped into the first league in only three years? This never happened before in Brazilian history, it is a miracle.
Again, I could be able to understand why Father is doing this, especially in Brazil. I want to show you the uniform of the Sorocaba soccer team, I received it from Father. He even signed it and asked me to establish a professional soccer team in each country in Europe. On the uniform you immediately see that there is not any company advertisement, but the logo of the Peace UN, the IICP.
When the first league opened, the first match was organized by the President of the Sao Paulo soccer association, his name is Marco Polo. He is our Peace Ambassador, and he came to Korea several times with Pélé, and even met Father. Father told him: "You can become President!" When he received this message, he thought "Yes, I'm going to be!" Now, he was elected as President of the Sao Paulo soccer association. Mr. Marco Polo is now promoting the family. The logo of the Brazilian soccer association also promotes the family.
For the first game, Mr. Marco Polo matched Sorocaba with last year's champion. I heard that it was broadcasted in many nations, more than 100. The score of this game was 2:2. Actually we won the game, but the judge made a mistake. I watched that game several times with Father. This match was televised, and in the whole world, including the Brazilian people, they saw the IIPC logo. I could be able to understand True Parents' vision and ideal.
I am so very much inspired, so why not in Europe? Father strongly urged that each country should start a soccer club. The purpose is basically for peace and youth education. We had a good time with Il Hwa soccer team too. For three successive years they were the number one team in Korea, now they are challenging to be the "King of Asia". They won the first game already. Father really took time to guide and educate them.
Opening ceremony for the Cheong Pyong Cheong Shim Theological Seminary School
There is some more news. There are many cable TV channels in Korea, but they are not very good. Father mentioned that the Korean people should be educated, so now we have two nation wide TV channels. I'm sure that soon these TV cannels will truly broadcast throughout the whole nation of Korea.
We had the opening ceremony for the Cheong Pyong Cheong Shim Theological Seminary School. When I went there to see what is happening in Cheong Pyong , it was truly a miracle. When we went to Hoon Dok meeting with Father, three elder sisters were sitting in front. There was Mrs. Kang, the one who joined first in South Korea, Mrs. …, and Mrs. In Joo Kim, the one who was witnessed in North Korea and followed since then. It is quite amazing that Father remembers everything about the old days of the Unification movement. Father kept asking the members what they are doing now. Father even remembers their names, even of those who left. He asked,"If I call, can you bring them?" I realized that even you here in Europe have many brothers and sisters who had experiences with Father, and he never forgets, he still remembers what you have done. Father would like those who became distant to return and join in this providence of the Peace Kingdom.
Anyway, these three elder sisters have been living alone, and Father said to them: "It is good to live together. When three of you live together and pray together, then the providence of the unification of Korea will go faster." I know that all of you have been making these prayer meetings with three sisters together, I actually asked for it after this experience.
The three sisters' testimony was quite amazing, that in the old days of the Unification movement, although Father was talking and talking, they could not believe what Father was saying. The foundation at that time was very small, but Father kept talking about the future and what would be happening in Cheong Pyong. They couldn't believe it. Now, in front of many brothers and sisters, in front of True Parents, they testified that everything True Father had been saying at that time is realized now. It was wonderful to listen to their testimonies about how they met True Father.
True Father's Life
After I spent time with True Parents, I have to say that True Father's life is not different from before, it is still the same. He is calling many Peace Ambassadors now, not only our family members, to come to Hoon Dok Hwe. So, if you go to Hanam Dong at five o'clock, you see many Peace Ambassadors. Normally, the Hoon Dok meeting goes until ten or eleven, sometimes even until twelve o' clock. I know that this is very hard for them, but afterwards they all say that they are so impressed how Father, as such an old man, keeps on doing this.
Right after the Cheong Pyong dedication ceremony Father went to Yeong Pyang, where about 3000 Japanese leaders were gathering. In the evening he started speaking, until four o'clock in the morning. Afterwards, at the lunch table, he said "I myself almost collapsed, but I did it." He really gave his heart to the leaders of Japan, to inspire the brothers and sisters. He came back to Hanam Dong, and again until eleven o'clock Father led the meeting with Rev. Kwak and Rev. Hwang. I'd like to say that Father is still making so much effort and he is making Cheong Sung day by day.
It is good to see that many Peace Ambassadors receive Father's messages. Especially in Yeosu City. The mayor and city leaders come to Father and receive Father's guidance at the Hoon Dok Hwe meetings.
I'd really like to thank you for all the work you have done throughout the last year. Father knows what you have done. As I mentioned to you in the last meeting in Jerusalem, Father gave wonderful words of blessing to the European members. "Sugo haed da go"? This means "You worked hard, and you made it, Europe." The next morning at Hoon Dok Hwe, he said that there is no word more precious than when the Messiah says "Sugo haed da go". Father really appreciates a lot what Europe, the leaders and the brothers and sisters, have done throughout the last year and this year. Thank you very much.
Many brothers and sisters in America were so impressed by you, by the European standard. They come to me and give such wonderful testimonies. "Oh, Europe, wonderful! Especially Second Generation!" We have such a good standard.
I met some leaders who maybe didn't know what Europe is doing They say: " Reverend Song, what a hard time you must have now! You must have a difficult time, especially in Germany, don't you! "But this is not true at all, absolutely not! I testify how good and wonderful you are. Whenever I visit and meet brothers and sisters or leaders in Europe, I thank God for such wonderful leaders, such wonderful brothers and sisters. To whomever I meet these days, I always testify about what Europe -you- has done. I even testify about what you have done before True Parents. So, I'd like to thank you for all the work you did. You are really great.
Daeshinja Father keeps talking that we should become the "daeshinja", the representative. When I listen to Father, of course I say: "Yes, I want to be your representative." At the same time I see that you are the representatives of me, and representatives of True Parents. You are even greater than me. I am so grateful that we have such wonderful members in Europe who are really dedicated. So, let 's give a big hand that Europe is helping True Parents' main providence! Are you happy about it?
Chong Sung Life
Never, never miss the importance of Chong Sung life. Why did True Father call the four providential European nations all of a sudden? If you try to understand providentially, you realize how amazing and precious it is that you are living in this time when Father announced the Fourth Israel. Out of 191 countries, Father selected seven nations. Four of these nations were in Europe.
The first 40 day Chong Song condition finished on the 15th of August. I am sure that this was not only a condition for the providence of Europe, but you actually helped True Parents to declare the Seoul Declaration successfully. After this, Father announced the beginning of the 4th Israel. It was so important that you made the 40 day condition until the 15th of August. I reported this to Father.
You started the second condition on the first of September, exactly going together with True Parents' providence of the Peace UN in New York. Many of you were mobilized to go to New York and work there. It was wonderful to support Father's most important providence. Your third Chong Song condition finished on the 19th of December. On this day you arrived in Jerusalem for the Peace Rally. At that time we did not understand so much what the meaning behind was. Today, we listened to many good testimonies.
When the Korean leaders returned back home after the Jerusalem Peace Rally, Father asked them to give testimony. They told how they visited many places where Jesus worked. After listening, Father said: "You did nothing there. You missed the most important thing." In Jerusalem, at the Peace Rally, what was the most important thing? Two thousand years ago, Jesus was crucified, but he was supposed to be the King of Israel. In order to liberate and raise him, the Coronation Ceremony for Jesus was held. That was the most significant and most moving scene from the providential understanding that happened in Jerusalem. Your third Chong Sung condition helped in True Parents' providence to hold Jesus' Coronation Ceremony. In front of the world religious leaders of the first, second and third Israel, political leaders and Peace Ambassadors gathering from around the world, the message was declared that True Parents are the Savior, Messiah, and Lord of the Second Coming, in the holy city of Jerusalem. For this event and the important providence to be successful, Europe made the condition. You not only made the Chong Sung condition, but you took action and participated in this holy providence. Thank you very much.
Your condition continued for the Peace Kingdom providence. I'd like to thank you for all the conditions you are making. True Parents understand what you have done and they have great hope and expectations, especially for this year 2004.
True Parents' Core Message
I'd like to mention True Parents' core message. As you know, this is the beginning of the Age of the Peace Kingdom. Father has the goal and great vision that until the year 2012 the Fatherland can truly be God's nation. He wants Cheon Il Guk to be established around the world. Father has a clear goal, and he keeps working for it day by day, pushes himself and works hard. He always says that everybody should be aware of the time that we are living in. We have received this message over and over. He says that we have entered a new age, so we have to renew ourselves and work for this age. We are living in God's ideal of creation. In the Garden of Eden, God gave the Three Blessings. First, be fruitful, second, multiply, and third, have dominion over all things. In the same way, Father gave the message that everybody should have il shim, il che, il yeong, il hwa, il hae. What is the meaning in English? One mind, one body, one mindset, one unity. It is the same message as to be fruitful. We should be totally one with God and one with the True Parents.
Second, in these days Father often talks about cleaning the blood lineage. " Pit jul chon hwa" It is the time that the blood lineage is totally transformed. Now, Satan's sovereignty is diminishing and God should have sovereignty. Father keeps talking about the blood lineage, which has to be changed and cleaned in us and in the world.
God's ideal is not just to be fruitful, but also to multiply. We have to multiply and build a family. This morning we read Hoon Dok Hwe about Father's main mission. What is his main mission? It is Blessing through marriage. The blood lineage can be changed through the Blessing by True Parents. Whenever you listen to Father these days, he gives the message that we have to clean our blood lineage.
Dreams of brothers and sisters
I have been thinking about the meaning why many brothers and sisters in Europe have received dreams. Brothers and sisters come to me and say:" I had the dream that True Parents came to our country." In almost every country that I visited, I received these testimonies from brothers and sisters. I have been thinking about how to interpret it that True Parents come to each country in Europe. How can we realize this?
These days, I receive many reports about dreams. I wanted to report to Father: "Many brothers and sisters in Europe have True Parents appearing to them and guiding them." At one Hoon Dok meeting, it was an amazing experience for me, because all of a sudden True Father talked about dreams. You have many dreams, also many Japanese sisters and brothers received dreams of True Parents. Father kept talking about dreams and said, "You have to keep that dream and make sure that you take action for the dream to be realized" That was Father's message. If you had a dream, then you must relate it with God and with the providence of True Parents. You should not lose that dream, but you should make sure that it is realized. If you do not take action, then you dream will not become reality.
We know from the Bible that Joseph had a dream. If he had forgotten this dream, I think he could not have become prime minister of Egypt. He kept the dream and even helped for other people's dreams to be realized. He worked and worked, he waited for his time, even though he did not understand why he was pushed on that way of suffering without having done anything wrong. When the time came, his dream came true. Father was talking about dreams on the same morning when I was thinking about the dreams that many European members are having. Father said: "Your dream should not finish just as a dream, but you definitely have to realize it. From now on, nothing is impossible. When you have a dream, then take action and it will be realized." Father's words gave me an answer. I didn't even have to ask the question, Father gave me an answer immediately.
This is the Age of the Peace Kingdom
This is the Age of the Peace Kingdom, so Father is sending Peace Ambassadors, especially from the seven countries. He has many expectations and gave them clear guidelines. Father's direction is not only concerning their mission, but I realized that it is for all of us and for the Peace Ambassadors from outside. Father asked me: "Did you establish a Peace Embassy in each country? How many countries are in your region? There should be a Peace Embassy established in all 35 countries." I told Father that I was sorry that we still did not have a Peace Embassy, not even in Germany and other West European countries. As you know, we do not even have our own European Headquarters and Peace Embassy. What is Father's answer to this? He immediately said, "Europe, you should establish your own Peace Embassy." I was very grateful to receive this message. It means that Europe can do it without even being helped and supported by Father. Europe, you can do it! So, please establish Peace Embassies in each country. Father has already given us that vision.
Many sisters received a dream about lottery. That means that a lot of fortune will come to this region, the whole of Europe. Once again, Father's message that morning was: "Your dream should not just stay a dream. But when you take action, keeping that dream, then the time will definitely come that all your dreams will be realized." All of us should keep hope that God has already shown us that Europe will receive fortune and lots of blessing. True Parents have already called us, and we have joined True Parents' main providence. The brothers and sisters who attended received so much blessing directly from True Parents, especially in Korea and in New York. They returned with so many visions. I truly want to encourage each nation and each national leader to keep that dream. If we work hard, then the dream will definitely be realized.
The last word Father gave was "Daeshinja", be a representative of True Parents. I think this should be our motto for this year 2004. Father said many times: "You should be better than me." This is his hope. If this was impossible, then he would not say it. Father has given us the title of the 4th Adam. True Parents are the 3rd Adam, and each one of us has the title of the 4th Adam. Father hopes that we don't remain young children, but truly mature and become True Parents, even to the level that we are better than our True Parents. That is why Father keeps saying, "be a daeshinja."
How can we become a "daeshinja"? Today and tomorrow we will have our meeting, and I'm sure you will discuss about how you can become a "daeshinja", representatives of True Parents. Rev. Kwak mentioned that we need to follow the pattern that True Parents have set so far, follow their course with each one of us as the Messiah and 4th Adam. We have the tribal messiah mission. Father said that tribal messiahship doesn't refer to your direct relatives, but to your spiritual children, those that are close to you and you keep a friendship with. Those around you are all your relatives and your tribe. Following this pattern, we have to take the mission of the 4th Adam.
Father's main mission is in two areas: education and Blessing. All the different organizations here, Women's Federation, CARP, etc. have the mission of educating. We all have the mission of guiding to the Blessing. Please understand that you have the mission to be a representative of True Parents. We have the same mission as the True Parents, we have to educate and then guide to the Blessing. This is the mission of the 4th Adam and the Tribal Messiah.
Now, the pattern is being set in Korea by what the blessed central families are doing there. They are forming 12 couples, 36 couples, then 72, 120 and 430. 430 couples represent the national level. Until 2012, everybody is striving to accomplish this mission successfully.
Thank you very much, I'm sure that we can share a lot throughout this leaders' meeting. We have to make a strong determination to move forward in our providence in this year 2004. I'm sure that 2004 will be the year that we truly stand as 4th Adam, as "daeshinja", representatives of True Parents. We can truly develop the providence by laying the foundation for Europe to realize the dream which brothers and sisters are receiving now about True Parents coming to Europe. This is our dream, and we have to realize it as soon as possible. Thank you very much!
I'd like to pray. Father, thank you very much for all the words given to us. Father, I know that True Father has a lot of hope for us, for Europe to truly fulfill the mission successfully. I am so grateful that True Parents called us now, and we are participating in True Parents' providence. As we are gathered together and have the European Leaders' meeting, I ask you to give us inspiration, to give us a dream and vision. We like to truly realize the dream that we have. Father, we are determined that this year will be the year that all the blessed family members in Europe stand as the 4th Adam, owners of Cheon Il Guk and truly become the parents for our country, for our tribe. Truly, Father, we want to address True Parents' vision and ideal to society, to the nation. We want to solve the problem that Europe is facing these days, especially concerning the East and West becoming one in the European Union. We want to take initiative to solve the problems in Europe by showing the model and example and guiding all the Peace Ambassadors to be the John the Baptist who can welcome the True Parents. Father, we have the dream for each nation in Europe to welcome True Parents, and we do not want to lose it, but keep it day by day. We want to make this dream reality, just like Father kept all his ideals and visions and kept on going until now his goal and mission is being fulfilled. We truly want to follow. Thank you so much for this time that we are gathered here and share all the words that True Parents have given to us, especially for Europe. I pray that we will offer our sincere heart. We have hope, we have commitment and we have the strong desire that we will welcome True Parents to Great Britain, France, Germany, Italy, Austria and the whole of Europe. That day will come soon, and we are the ones who can make it possible, who can save whole Europe as representatives of True Parents.
Thank you so much for this time.
I pray and report in my name, Blessed Central Family.
Amen.