| | |
| --- | --- |
| | The Words of the Selle Family |
First New York Religious Freedom Banquet
Robert Selle
October 8, 1984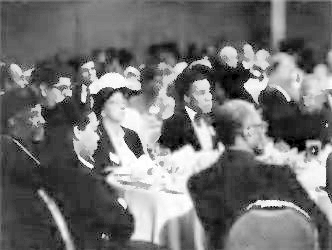 Banquet participants listen intently to the evening speeches.
On Monday October 8, over 200 people attended the first annual awards dinner of the New York Committee for Religious Freedom, held at Manhattan's Holiday Inn.
The banquet was emceed by New York City TV anchorwoman Denise Richardson, and was electrified by speeches from the Rev. Wyatt Tee Walker, former chief of staff to Martin Luther King Jr. and now pastor of the Canaan Baptist Church in Harlem, and from Johnny Ford, mayor of Tuskegee, Alabama, and former president of the National Conference of Black Mayors.
Rev. Walker said that "he [Father] became a target for the racist tendencies inherent in America. Whether he was targeted unconsciously or consciously -- and I think it was the latter -- it was because he was Third World, colored, and non-English-speaking."