| | |
| --- | --- |
| | The Words of the Selle Family |
"Little Angels" Thanking Veterans, and Greeting Leaders in Between Their Performances
Mark Barry and Bob Selle
June 9, 2010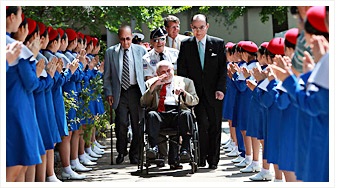 George Hyatt, 79, Marine Corps veteran of the Korean War, waves to members of the Little Angels children's folk ballet of Korea as they line the walkway outside the MacArthur Memorial on Monday, June 7, 2010, as veterans of the Korean War and speakers arrived for the ceremony. At right in dark suit is Bo Hi Pak, co-chairman and executive director of Korean War 60th Anniversary Memorial Committee.
From Visiting Congressmen to Giving Cheer to Veterans at VA Hospitals, Korea's "Angels of Peace" Will Be Up to the Job
Between performances in Washington, DC, New York and Atlanta, the Little Angels Children's Folk Ballet of Korea will be busy greeting national and local leaders, and personally thanking veterans at hospitals in Virginia during their American tour.
Thirty-four Korean girls and one boy, aged 9-15, will dress in their colorful folk ballet costumes to be active ambassadors of goodwill in each city they visit.
In Washington, they are scheduled to make courtesy calls on one U.S. senator, two congressmen, and one or two local officials. South Korea's ambassador to Washington (and former Republic of Korea prime minister), Han Duk-soo, will host a lunch for the Little Angels at the Korean Embassy. The Little Angels also plan to visit a Veterans Administration hospital in the Washington, DC, area.
In New York, they will pay a courtesy call to the president of the United Nations General Assembly, H.E. Ali Abdussalam Treki. A memorial service is expected to be held at the New York Korean War Veterans Memorial at Battery Park in Manhattan on June 14. On the same day, the Little Angels may also visit another hospital located in Virginia.
In Atlanta, the Little Angels will visit several office holders at the State Capitol, and later pay their respects to Rev. Dr. Martin Luther King, Jr., at the King Center. During their visit, the troupe also plans to participate in a memorial service at the Georgia War Veterans Memorial Complex, across from the Capitol. They will perform not only in Atlanta but in Columbus, GA. (located near Ft. Benning, which is where many ROK army officers received advanced military training starting in 1951).
These U.S. performances are part of a global tour that will take the Little Angels to the 16 nations that contributed troops to defend Korea's freedom in the Korean War. Their tour, in fact, is the leading international effort this year to commemorate the 60th anniversary of the start of the Korean War.
The troupe's purpose is to provide "breathtaking and heartwarming" performances that will honor and cheer U.S. veterans, express the deep gratitude the Korean people feel toward all Americans for preserving their freedom, and celebrate the enduring Korean-American friendship.
To get tickets at reduced prices -- or to get them FREE for your veteran or active-duty military friends -- go to www.kw60tickets.com.