| | |
| --- | --- |
| | The Words of the Schmidt Family |
Our Dream Becomes Reality - True Parents in Germany!
Dieter and Ana Schmidt, Christian and Kathy Hausmann, Fritz and Hildegard Piepenburg
July 25, 2009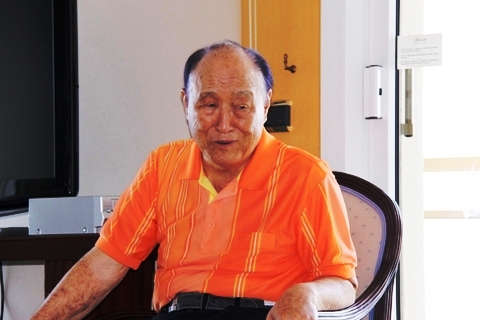 Our dream has turned into reality! After 19 years, our True Father set foot again on German soil on July 25, 2009, at 11:30 am. He arrived together with True Mother, Sun-jin Nim and her husband In-sup Nim, the two youngest daughters and the lovely grandchild Shin-joon Nim at the small airport of Karlsruhe Baden-Baden.
When we offered the welcoming flowers to True Parents, we could feel True Father's joy to be able to return to Germany at last. His face was beaming with enthusiasm.
The flight from Seville, where Father opened the Peace Cup, went smoothly and the walk from the airplane to the car was quick and without any checking or delay, just walking straight through the door! Pres. Song told us later, Father had decided to go to Germany just the night before (and indeed, we were informed in the evening that True Parents would arrive next morning).
Sun-jin Nim and her husband In-sup Nim told us, how happy True Parents were upon visiting Germany again after such a long time of absence. Sun-Jin Nim and In-sup Nim are very enchanted of the beauty of Baden-Baden and want to return in the near future. They told us about the walk they had with True Parents in the nearby park. It is quite clear that this visit marks the definite end of the Schengen problem which has traumatized all of us for such a long time. It also was the 10th visit of the True Parents to Germany. Dieter Schmidt and Fritz Piepenburg were able to attend Hoon Dok Hae on the morning of the 26th, lasting from 5 till 7:30 am. Father was very alert and interrupted the reading a lot with his own comments. Unfortunately our Korean was not sufficient to understand a whole lot. At one time, Father asked about these two "Western faces" in the audience and then, in very clear English, told us: "You have to study Korean. It is a very deep language."
One of the highlights of Hoon Dok Hae, of course, was the arrival of the very charming grandson Shin-joon Nim with his three toys. He gave Father a kiss and Father embraced him with such love and affection, which really moved all of us. The little boy then went around and distributed chocolates to everybody. Father then studied closely those three toys and even made some remark about them. This little boy can brighten up the life of Father like nothing else. It is really very touching to observe these scenes.
In the evening Father had wanted to watch the Peace Cup on TV, but there was no live transmission available in Germany, only through the internet in very low quality. Father said, he had come to Europe especially for the Peace Cup, but was not able to follow the games in Baden-Baden, so he decided to return to Spain where the matches are being broadcast live. After breakfast everybody went to the airport and without any delay or question, the party could simply walk through the gates, board the little airport buggy and drive to the plane. We gave them a very warm farewell and asked them to come back soon. It was a very joyous atmosphere and everybody felt so uplifted by the spirit. The German family is publishing a picture book on the 10 visits of True Parents since 1965 and this last visit will surely be a part of it.
Dieter and Ana Schmidt
Christian and Kathy Hausmann
Fritz and Hildegard Piepenburg