| | |
| --- | --- |
| | The Words of the Schanker Family |
Hye Shik Kim Schanker: Remembered
Philip Schanker
October 11, 2007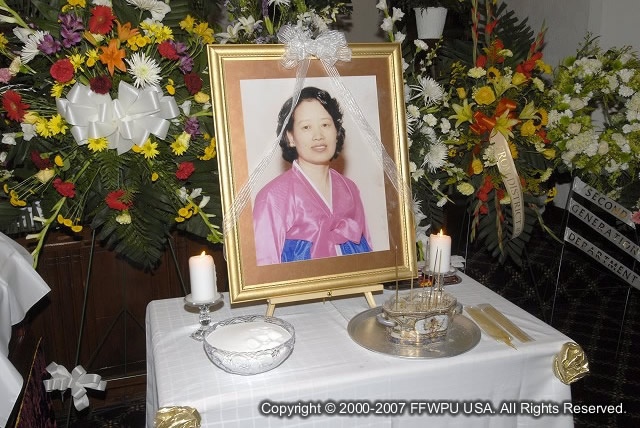 Hye Shik Kim was born on December 3, 1953 in South Korea, in the painful aftermath of the Korean War. She was born in the town of Byeong Cheon in southern Choongnam province, the birthplace of Yoo Gwan Soon, the Korean patriot who was martyred as a schoolgirl during the independence movement of 1919. The second child of a hard-working farming family, Hyeshik has 3 brothers and 3 sisters, all of whom have survived her.
The family descended from the respected Andong Kim clan, a noble lineage distinguished by education, service and adherence to tradition. A disciplined and hard-working "Straight-A" student, she excelled at her studies and extra-curricular activities.
Hyeshik lived with relatives while attending school in town some distance from her home. When her mother discovered that she had quietly moved into the Unification Church at the age of 16, she came to fetch her daughter home. As the girl obediently packed her clothes, "halmonis" (grandmothers) in the church praised the girls devotion and patriotism, promising she would one day be another Yoo Gwan Soon. In tears, her mother allowed her to stay.
When Rev. Moon asked the newly Blessed wives to go out across Korea as pioneers, witnessing for their faith and serving the nation before their families, Hyeshik was one of several young women who came to the church HQ in Seoul to take their place. There she cared for the Moon family and children as their parents led the movement by example. When Reverend and Mrs. Moon came to the US in 1971, she helped to care for the family until the children joined their parents in America 2 years later.
Hyeshik witnessed, became proficient at teaching the Divine Principle, and raised several spiritual children into the Unification faith, while working at the Il Hwa Ginseng Company outside of Seoul. Always eager to develop herself, she took classes in cooking, piano, flower arrangement, etc.
When Rev. and Mrs. Moon stayed near the Il Hwa plant while visiting Korea and leading national activities in 1978, they encouraged the patriotic Hyeshik to consider the path of loving the world more than her own country through international marriage. In October, 1978, she was engaged with Phillip Schanker as one of 35 Korean-American couples, to become a gateway for the unity of these two countries.
In preparation for her mission in the USA, Hyeshik pioneered for 21 months in the east coast Korean city of Kangnung, where she organized community programs for children and seniors, supported the churchs ministry, and raised several spiritual children.
She emigrated from her homeland to the US in September of 1980. Encouraged by True Parents example to serve America before her family, she joined the legendary MFT, loving this country from Bourbon Street in New Orleans to Times Square in New York, distinguishing herself repeatedly as the top fundraiser among Korean and Japanese women.
She pioneered the expansion of the Korean Evangelical Association in Philadelphia, Chicago and elsewhere, attending Philadelphia Community College to further her education.
Phillip and Hyeshik were Blessed on July 1, 1982 in New Yorks Madison Square Garden, as part of the 2075 couples Blessing. They have raised four loving and good-hearted children: daughter M. Elizabeth (born 1984), and sons B. Daegun (1986), Joshua TaeHeung (1989) and David Taesun (1991).
She supported her husband with absolute devotion during 7 years of work in Africa and Asia as educator and missionary. She managed the family while Phillip returned to school to earn his bachelors degree and begin post-graduate studies, during his struggle with cancer and crippling arthritis. Her selfless devotion to her husband and children was automatic.
The family has made their home in the Washington, DC area since 1997, when Rev. Schanker became pastor of the Washington Family Church. In 1999 he was called to serve at the HQ of the Family Federation for World Peace and Unification- USA as Vice-president for Public Affairs, and later Education.
While supporting her husbands national mission without hesitation, Mrs. Schanker founded and led the Chung Pa Korean Language School, which remains to this day in Washington.
She actively witnessed and taught the Divine Principle, reaching out to the Korean community and working to bring her relatives in Korea and the USA to the Marriage Blessing. Meanwhile she maintained a weekend floral business to help support her family, and attended True Parents whenever they visited Washington, DC.
In 2002, on the 20th anniversary of 2075 couples, Mrs. Schanker edited and published the 2nd of 2 volumes documenting the lives and achievements of Korean-American couples and their families in the USA.
Hyeshik Schankers life has been an honest and pure example of service, devotion, integrity and simplicity. Throughout her life, she maintained a laser-like and uncompromising focus on what she believed was most important: her faith, her values, and her family.
Her most enduring legacy is the children she raised: it is their character, achievements and Blessed marriages of which she is most proud: M. was Blessed with Christopher Stein in 2003, and attends nursing school on a scholarship at the University of Maryland Nursing School. B. is in his 3rd year at Boston University on a full scholarship, where he plans to pursue a joint Phd/MD, and was Blessed this July, 2007 with Kjersti Ulvestad. Joshua earned a full scholarship to Boston College, where he began this fall, studying philosophy and psychology. David, a straight-A student at Rockville High School in Maryland, is preparing to follow in the footsteps of his elder siblings.
Hyeshik Kim ascended to the spiritual world on October 8, 2007, at the age of 53, as a result of complications resulting from a massive and sudden stroke.
While no one can ignore the deep hole that her departure has left in the lives of those she has loved, the void is filled to over-flowing with the memories of her pure heart and many victories. It is the character of her children, and the enduring love and witness of her husband, that is her greatest legacy. We send her home ahead of us, with gratitude and pride.