| | |
| --- | --- |
| | The Words of the Sato Family |
Youth-Sponsored "Mothers' Appreciation Ball" In Chicago Is A Tremendous Success!
Yuka Sato
May 16, 2010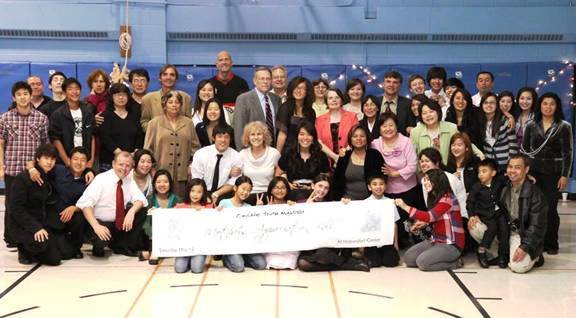 On May 15, 2010, the Chicago STF Team and Chicago Youth Ministry joined together in presenting a wonderful "Mother's Appreciation Ball" for the Chicago Unification Community. Because the week-end of Mother's Day was spent by many in flower fundraising, we chose the following Saturday as the time for our celebration.
The Emcee for the evening was Jario Vincenz-Gavin, Chicago Youth Pastor. The program kicked off with a ballroom dance lesson given by Kimisei Miyake and me. Most of the parents were excited to learn the waltz, and did so very quickly. They were very attentive and very diligent in trying to perfect the moves with their partners.
After the dance lesson, members of the Chicago Youth Ministry "Cooking Expresso Group" began serving a delicious three-course meal. The team was led by Nadia Swenson, Seong Oea Hibner and Kaori Ogden, with twenty others who spent most of the day preparing and cooking the food for the event.
When the dinner ended, we began playing music and couples slowly began to rise and test their dance lesson results. I emphasized that for those who were shy about coming to the dance floor to not worry about the proper steps for the waltz. The important thing was for everyone to enjoy each others' company, to relax and to simply have fun together! The program was inspired by the desire of the second-generation youth to show gratitude and appreciation for the parents by serving them and attending to their comforts throughout the evening. The night ended with everyone dancing till they were out of breath!
Overall, the event was a great success! Many participants came to me thanking our team for trying such an event that had never been done before in Chicago. We were very happy that through it, the community could feel happy! Chicago is one of the most family-oriented communities that I know, and it is beautiful to see how the community really comes together under one common purpose and goal.
Thank you so much Chicago Family Church for making this event possible! Hopefully, all of the mothers could feel how much they are really appreciated in our lives!
Chicago STF Team -- Yuka Sato, Kimisei Miyake, Mitshi Ishioka, Kenta Goto and Julia Granstrom