| | | | |
| --- | --- | --- | --- |
| | The Words of the Salinas Family | | |

Honduras Ambassadors for Peace Come Together to Help Children
Mario Salinas
December 17, 2006
UPF-Honduras
Tegucigalpa, Honduras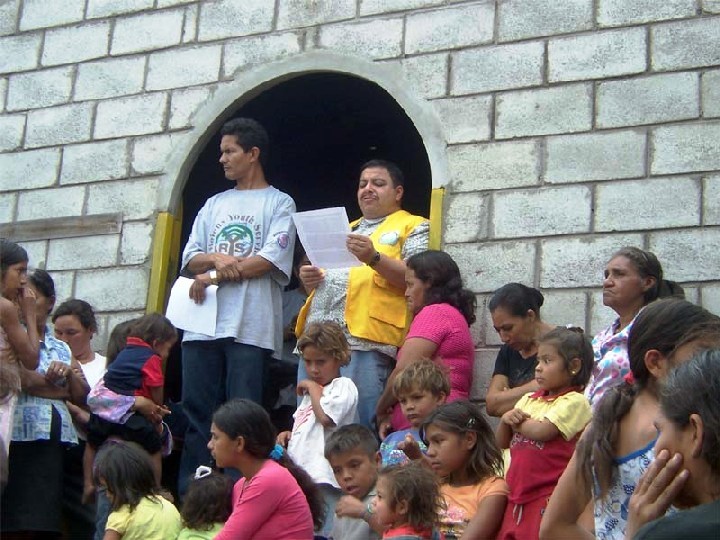 Children receiving medical care.
Honduran Ambassadors for Peace united to offer a day dedicated to special children who live around the 'Dump City Place,' a poor section of the Honduran capital with many homeless people, especially children. The day included medical care, food and a party for the children who have so little.
According the Miami Herald, Honduras has the highest rate of children working at dumps in Latin America-- an estimated 2,000 out of a population of only 7 million, according to UNICEF.
During the day of service at the dump place the UPF Ambassadors were encouraged by the visit of Mr. Jorge Mahomar, a well known 'sensitive Samaritan' for homeless people. Mahomar was recently recognised by the Honduran government as the First National Prize of Voluntarism.
Moved by the poor environment and condition of the Dump community that he committed himself to build a FANIVA: FAmily, NIñez and VAlues) Center or dining room for children to begin in January 2007.
The proposal for the day of service came from a young Ambassador for Peace, Claudia Raudales, who inspired others to join her so immediately AFP Wilfida Sandoval offered new toys and cloth, AFP Lady Dania Morales offered the Piñata for the party; AFP Milton Valladares offered the candies and supplies, AFP Mrs Doris Garcia offered the chickens for the lunch and AFPs Marvin Aceituno, Abogado Roberto Cruz and Isidro Betancourt offered each one monetary contribution.
The whole activity was conceived as part of the 120 Nations IV Peace Tour. The Peace Message was delivered by Catholic Priest and Ambassador for Peace, AFP Padre Gumercindo Guillen, with the help of AFP Dr. Casco, a Catholic NGO lay leader.


Download entire page and pages related to it in ZIP format


Table of Contents


Information


Tparents Home