| | | | |
| --- | --- | --- | --- |
| | The Words of the Sakamoto Family | | |

New York ACLC Prayer Breakfast Report
Reverend Sakamoto
January 14, 2006
ACLC Regional Coordinator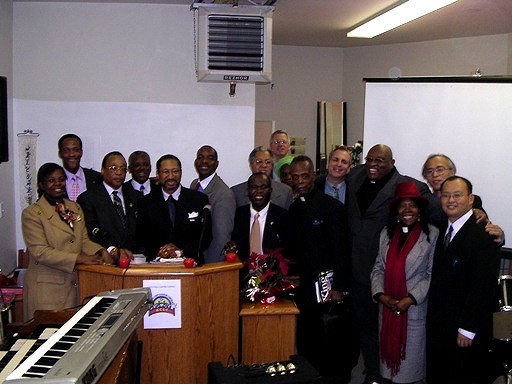 The ACLC of New York got off to a good start as we entered the 6th year of Cheon Il Guk. Through the inspirations and guidance of Rev Jenkins to have a consistent monthly prayer breakfasts, on Saturday, January 14th, the ACLC had its first prayer breakfast in 2006 at the "First Grace Baptist Church" in Harlem, New York. In December of 2005, Archbishop Moses de la Rosa and Bishop Margie de la Rosa of the "Christ Family Church" in Mount Vernon, New York, became excited when Rev. Levy Daugherty asked them to host the ACLC prayer breakfast. Then, they initiated, organized and personally hosted the event. All this took place while the New York Family Federation leadership was at a seminar.
During the December prayer breakfast, one pastor, Rev. Harvey Kendricks of the "First Grace Baptist Church" in Harlem, New York, was inspired and asked that his church host the next monthly prayer breakfast which would take place on the second Saturday of January, 2006.
Despite the inclement weather, the church was packed with ministers from our different districts including the two co-conveners Dr. Mc Ghee and Rev. Bruce Grodner, the co-chair Bishop Peter Armah (Bronx), Rev. Queen Varick (Queens), Rev. Dr. Margaret Savage (Long Island), Archbishop Moses de la Rosa and Bishop Margie de la Rosa (Westchester).
Bishop Cecil Riley from the "Freedom Hall Church of God" is the New York Regional ACLC co-chairman and a leader of the Caribbean community, gave a powerful introduction, recognizing Father Moon's accomplishments and the sacrifice of our Japanese missionaries. The keynote address was given by Rev. Levy Daugherty, a powerful and revolutionary message on "Changing Blood Lineage" from a Biblical perspective.
The ministers were moved and the campaign to expand membership was off to a good start. At the end of the program, a number of clergy signed membership to join the ACLC. The program was concluded with the Holy Wine Ceremony.
We would like to give thanks to God and True Parents for their unbending determination to save this nation through awakening all clergy and religious leaders to take ownership and responsibility for building and expanding God's kingdom.
We would like to thank Rev. In Hoi Lee for his constant guidance and leadership, Rev. Levy Daugherty for his initiative and empowerment, and all the ACLC HQ Staff for all of their prayers and support.


Download entire page and pages related to it in ZIP format


Table of Contents


Information


Tparents Home