| | | | |
| --- | --- | --- | --- |
| | The Words of the Sabo Family | | |

Our Family's Heavenly Chun Il Guk Journey
Ray Sabo
February 25, 2003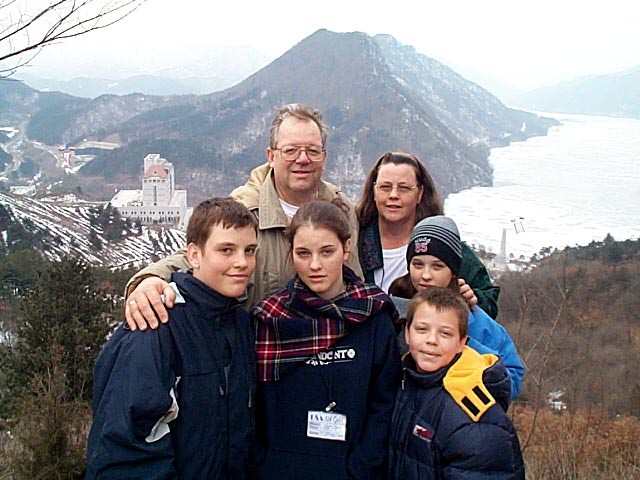 At the Tree of Blessing with the Heavenly Palace in the background.
It was truly amazing to hear of the Heavenly direction to spend a week in Korea with the beginning at Chung Pyung to attend the Chun Il Guk Blessing and Marriage of the Lamb.
I thought how wonderful it would be for my wife to have this experience. So we prepared for Kathy to go to Korea. Then I thought I would also like to have this historical providential experience and also my children too. Many things went through my mind, work, money, our 4 children and so on.
About 3 weeks before Kathy was going to go we decided for all of us to go. Even we really did not have the money we still decided to go. We had some tax money put aside so we decided to use that and worry about it when we came back. Also, it was not guaranteed that I would have work when we came back. We then purchased the tickets to leave on the 3rd of Feb. Then our state leader met us after Sunday service about a week before our departure and said that we were able to go to the Chun Il Guk award program. So we decided that my wife and children would go on the 30th to attend the 7 days workshop for the Chun Il Guk awards and I would meet them on the 3rd. It was so wonderful that my children would be able to spend the 7 days in the workshop and do ansu everyday, they had a wonderful experience. I was able to join them for 3 days in the workshop. My wife was able to pick the lottery to receive a Chun Il Guk award.
On the 6th of Feb we were able to attend the most Holy Day in God's History of the Marriage of the Lamb. As we were able to be up front it is was incredible to see the walkway lined with brothers and sisters in white robes and pink vests. As True Parents walked in, you could feel that all of Heaven opened up and the Golden light of God's love lit up the procession of the True King and Queen of Mankind. As True parents proceeded to the stage it seemed like eternity. To witness this holy marriage is beyond words can tell, but truly we are so grateful that our family could experience the Marriage of the Lamb and also to receive the 3rd level of the Chun Il Guk blessing. Truly this will be a memorable day in our lives for eternity.
On the 8th of Feb was another Historical and Providential time, this was when we were able to go to our cities in Korea for at least a week.
As our family gathered our belongings and proceeded to the buses it began to snow. I really felt that God was sending us all off with His blessings.
We drove about 7 hours to Gwang Ju. There we arrived about 9:00 pm to our new home in the church center of Dong Gu. There we all were greeted with so much love and caring.
The next 7 days were truly another exceptional experience in our Heavenly journey to Korea.
It was so amazing to see that there were about 18 meetings prepared were we all would be able to participate in.
My wife and four children were able to form a choir with 3 others from America and 6 sisters from Japan. There they would be able to perform at 18 meetings. My son Justin who is 10 was the conductor of the choir, he did a fabulous job. After all the meetings the many Korean ladies who came up to Justin and hugged and kissed him on the cheeks. He felt he was in Heaven. The choir really warmed the hearts of the Korean people.
I was asked to speak at each meeting. My experience was a profound one. Rev. Hong from NJ was there and interpreted. As I spoke at the meetings I could really feel the hearts of the Korean people. I felt their deep love that they have for us and also felt their suffering from the years past and realized that many still have families in North Korea. I spoke with conviction that Father is a person sent by God to bring unity between the North and South. He not only has a God centered vision but is doing very practical ways to bring the unity. I humbly asked them to listing to what Rev. Moon has to say. I was told that there were many new people at the meetings. I felt so much appreciation and love from them that we were able to be in Korea and letting them know that working together with True Parents that Unification can come to Korea and the whole world.
The church leader and his wife and children Rev. and Mrs. Lee were truly expressing God's love and caring heart to us all while we were there. Truly these 7 days in Gwang Ju was an awaking to us all that we are not just Americans, Japanese or Koreans, but we all are God's children trying to build His kingdom on earth with each other and in our families.


Download entire page and pages related to it in ZIP format


Table of Contents


Information


Tparents Home