| | |
| --- | --- |
| | The Words of the Sa Family |
Seminar on the Divine Principle for professors and students
Kwang Ki Sa
March 14, 1971
President of Choongbook CARP Branch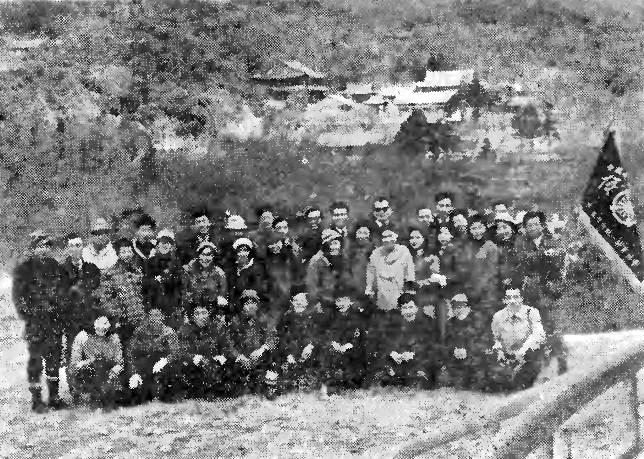 Seminar members in front of Whaom-Sa Temple
Under the auspices of Choongbook Provincial Branch, the Collegiate Association for Research of Principles, a seminar on the Divine Principles for college professors and new student members was held for two days from March 13th to March 14th at Whaom-Sa, an old Buddhist temple of the Silla Dynasty, which is located at the bottom of Mt. Chiri.
41 members including 4 professors, advisor and guide director to CARP arrived at the temple in the afternoon, March 13th by HSA bus. Prior to seminar, there were outgoing address of In Hoe Koo, former president of Choongbook CARP Branch and an inaugural address of Kwang Ki Sa, new president of the Branch and a briefing on the CARP Branch's activities by Mr. Yon Pyo Hong.
After hearing of the Principles, every professor commented upon the Truth and Collegiate activities. Professor, Son Kyun Oh, from Choongbook College set forth his view saying, "I feel sorry to think of that Korean people often lack cooperation in doing something what they want, but now I am very happy to say that you have a good cooperation and nice teamwork in carrying on your activities, and I hope for your success."
And Professor Don Wha Choi said, "The Principle Movement set up its goal toward the character building. I think I must learn from you as much as possible as a 'Cain'. I believe the unification of our country will come soon if you do, wholeheartedly, carrying on your movement continuously and do your best."
Professor Joo Sop Pyon, (Choongbook College) said, "I was much impressed to hear the Principle of Unification Church which was based on the scientific test and logical proof. I feel, as a natural scientist, the Divine Principles is worthy studying in this view point."
And Professor Dea Sik Pae emphasized that the Collegiate Association for Research of Principles intended to achieve world peace and welfare of mankind. Even though the goal of the Association was made clear, the Principles should be studied comprehensibly in every field of science, he continued. He concluded his saying that he was convinced that this Principle would greatly contribute to world peace.
After the seminar was over, the professors promoted "Professors' Association for Research of Principles."