| | |
| --- | --- |
| | The Words of the Orme Family |
More than 2,500 people have attended our programs
Dennis and Doris Orme
September 4, 1971
Dorney, UK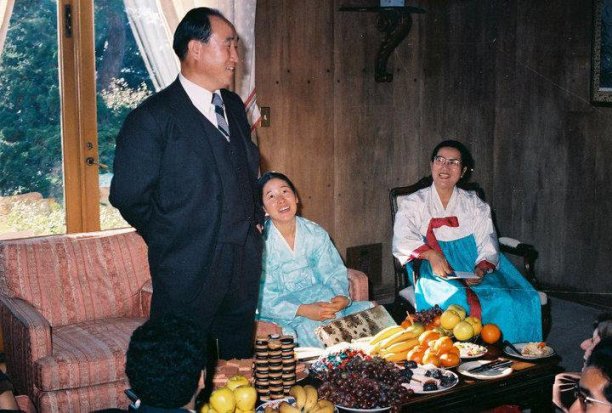 Dear Mr. [Young Hwi] Kim,
So much is always happening these days that it is hard to recall things in detail. However I will try. First of all we have put on five variety shows between this month and last month and over 2,500 people have attended; out of this we have made many contacts for our Principle workshop weekend, plus our Victory over Communism work.
Two weekends ago we were invited to the Ukrainian Youth Camp, where Dennis spoke to around 100 people on VOC and also showed a film from the Japanese family.
We have several invitations to lecture at various branches of the Young Conservatives on VOC all over London and hope to further our work on a larger and larger scale. We have met many leaders of various anti-communist groups (especially from the captive nations) and have had much opportunity to speak at their receptions and at the Fulham Town Hall for all the captive nations, and also at the South Vietnam Embassy.
We are campaigning as often as we can on the streets with large boards depicting the atrocities of the communists and also various other issues of the Promiscuous society (obscenity and violence etc.) and of course Divine Principle which is our every day work. Moreover we maintained booths for Divine Principle material at the week-long reading, exhibition, at a three-day music festival, and at a horticultural exhibition.
Many more booklets have been written on the various problems in our society, which are mostly for our anti-communist work and also Federation work.
In Scotland June Perrin is very busy and at this time one of the members, Eric Holt, is staying with us in London and also here from the Greek Family is Efrossini and her mother Maria. Efrossini hopes to remain with us for a year.
We have been still busy de 'rating the Farmhouse and also our other center near London, which we just bought this past month.
Our work goes on, and our love and prayers reach out to you all in our Beloved Homeland.
In our True Parents Name,
Dennis, Doris and all the English family