| | | | |
| --- | --- | --- | --- |
| | The Words of the Okamoto Family | | |

Report On The New York ACLC 2-Day Seminar
Julia Okamoto
October 13, 2006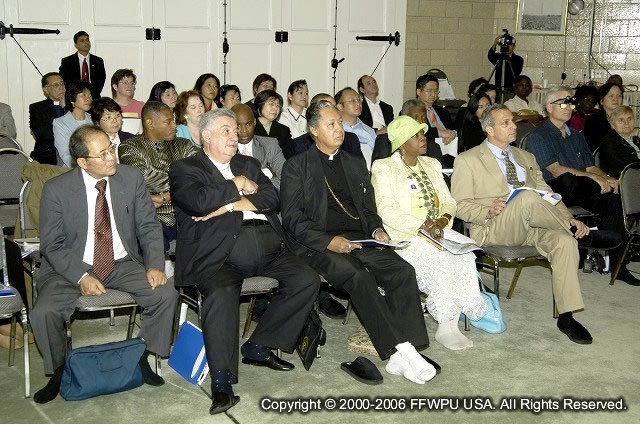 On Friday, September 29, we convened a 2 day ACLC conference in New York, Belvedere, the place where Father has spoken and inspired us on many occasions.
The first day there were a number of ministers from around the country, including one minister, Rev. Jackson, who came all the way from San Francisco because of his conviction and commitment to the blessing.
Rev. Ki Hoon Kim spoke about the ACLC work he has been doing for many years in Chicago. He has bought a lot of success, and one of the things he stressed was to be consistent with the prayer breakfasts and to continue having them every month without fail.
Rev. Levy Daugherty talked about the importance of ACLC in terms of the power of such an organization in impacting the society and country.
Rev. Sakamoto gave a very powerful power point presentation of how ACLC has grown in New York. and how the ministers themselves have been empowered to run the prayer breakfasts themselves with only limited involvement from FFWPU.
Also the connection was made with minister outreach and HDFC with the Hoon Dok family group helping each other take care of each otherís church and including the minister in their group and eventually being able to influence the ministerí congregation and bless them, thereby becoming a tribal messiah.
The three legs of ACLC are 1) Divine Principle study, 2) True Family Values education and 3) Social action and faith-based community programs. The determination of the ACLC is "As leaders of America, we will focus our attention to help guide leaders from the church, community, businesses and even our heads of state, and be the voice of the prophet to the nation and world."
In the evening we had a banquet with the ministers and special guest Archbishop Milingo, who spoke about his organization "Married Priests Now" Rev. Stallings gave a rousing speech, telling people to come and see for themselves instead of believing hype.
The second day was mainly focused on members. Rev. Kim gave his presentation on a step by step guide on how to visit churches. We broke out into groups at the end to discuss how we could make an outreach team helping each other to fulfill or goal of one family, three churches.
I think this meeting was a new start for us in the New York area; members there were energized to begin again to go out and visit churches with a deeper understanding and commitment.
Reported by Julia Okamoto


Download entire page and pages related to it in ZIP format


Table of Contents


Information


Tparents Home