| | |
| --- | --- |
| | The Words of the Nolan Family |
In Memoriam Apostle Carolyn Younger-Nolan
Kathy Winings
January 26, 2012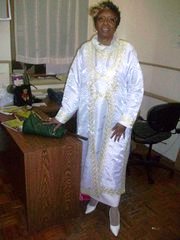 Carolyn Younger-Nolan
Rev. Carolyn Younger-Nolan, returned home to God earlier this week. Apostle Nolan was not only a faithful and spirited daughter of God but was also a fierce friend and advocate of UTS. Though she faced many challenges during her time at UTS – the passing of her husband and her cancer diagnosis being two of them – she never allowed them to slow her down or to diminish her enthusiasm and spirit. While it sounds cliché, Apostle Nolan was certainly an inspiration to all of us.
She began her UTS studies at the NYC Extension Center fairly soon after it was launched. Whether she was in class or just talking with fellow students in the Student Lounge, Apostle Nolan always sought to encourage her fellow students to put their whole heart and mind into their studies and to learn all that God wanted them to learn so that they could bring even greater glory to their heavenly father and his kingdom.
Apostle Nolan not only devoted herself to her studies but also encouraged her daughter to attend the Seminary at the same time. They were UTS' first mother-daughter team of students. Whether it was a chapel service, Christmas party or an event to support those hurt by disaster, Apostle Nolan was the first one to attend and to encourage others to attend also. She also regularly featured faculty and students on her Mountaintop Ministries cable show, and frequently invited "the Dean" – as she liked to call Dr. Winings – to community programs and events that she sponsored throughout NYC. Apostle Nolan was also instrumental in connecting UTS students and faculty to key programs and organizations such as the Harriet Tubman Award committee and other ecumenical organizations throughout New York.
When the DMin. program was approved, Apostle Nolan could not wait to submit her application to the program. As soon as she graduated from the Divinity program in 2007, she applied to the doctoral program and began the last part of her educational journey. It was at this time that Apostle Nolan was diagnosed with cancer. Even then, she never let her health challenges hold her back or limit her zeal for her studies and her ministries. Though she was undergoing chemotherapy, she still attended her doctoral classes without missing a beat. She not only attended her classes, she actively participated in each session. She completed her DMin. coursework in 2009 and began work on her dissertation project. It was her hope to complete her dissertation project and graduate this coming May.
Outside of her Mountaintop Ministries and her other evangelistic endeavors, the one theme that she was most passionate about was the family. Each of her community programs were directed to helping people understand the holiness and beauty of the family and the need, in particular, for African-American families to remain strong and committed to each other. For Apostle Nolan, the family was the cornerstone and bedrock of life and she was not afraid to speak out against those things that were trying to divide and harm today's families.
Apostle Nolan personified I Cor. 16: 13-14: "Be on your guard; stand firm in the faith; be [people] of courage; be strong. Do everything in love." She was every vigilant with all that God asked of her. She was, above all, a person of tremendous faith. She was certainly courageous and strong. But most of all, she did everything with a depth of love that many of us can only aspire toward. All of us, faculty and students alike, have our memories of Apostle Nolan and all of us will forever remember her bright smile, warm heart and encouraging words each time we walk along the halls of UTS or sit in a classroom. Even now, her voice can be heard in the hallways: "God is so good." "We need to be about our Father's business." "Now what is it that God is asking of us today." She was loved and she will be missed.
We know that, while she has earned a well-deserved rest, she will be working harder than ever in God's eternal kingdom encouraging, preaching and sharing God's abundant love in her own inimitable way. The word "rest" has never been part of her vocabulary. After all, Apostle Nolan is her Father's daughter!
For those wishing to offer your prayers for her and her family, there will be a wake and visiting hours on Monday, January 30th from 4:00 – 6:00 pm with funeral services that evening, 6:00 – 9:00 pm. The committal service will be the following day, Tuesday, January 31st beginning at 10:00 am. The wake and funeral service will be at Healing from Heaven Temple, 2535 Frederick Douglass Boulevard, NYC, NY.