| | |
| --- | --- |
| | The Words of the Nelson Family |
Ceremony of Sisterhood
Denneze Nelson
March 16, 2012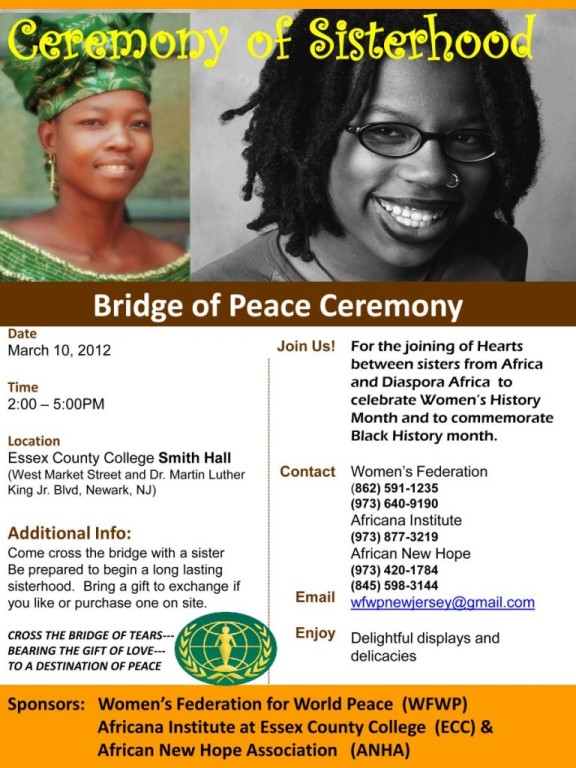 Amazing. The event was planned and executed in 2.5 weeks. There were 220 people who attended, plus 40 children. The keynote speaker H. E. Ambassador Amina Ali from the African Union to the USA was absolutely amazing, really hitting the women's issues head on and offering non-aggressive ways to negotiate and get powerful results. She emphasized what International Women's Day means to women around the world and why it is such a celebration. Many women around the world are treated like peasants, even when they are married to kings. For those women to have their own day is such a great and meaningful thing. The Ambassador provided such a unique perspective for the American women present.
I spoke about black being unique; but most importantly that being an individual is unique. God specializes in uniqueness with the reason being: to bring joy and happiness. It is a great lie to speak of uniqueness as being a deficiency or a negative.
The event emphasized raising children to be a generation of peace, seeing them as precious, and teaching them that all other children are precious too. I explained about the purpose and reasons behind True Parents founding the Women's Federation for World Peace.
Proclamations were received from the City of Irvington and the City of Newark. Mayor Wayne Smith, former Councilwoman Jessie Dixon attended, as well as several heads of community organizations. Our local chapter of WFWP was also honored to welcome Mrs. Angelika Selle, the WFWP-USA President.