| | |
| --- | --- |
| | The Words of the Moore Family |
Christmas Festivities in Las Vegas with Lovin' Life Ministries
Mark Jung Moore
December 26, 2010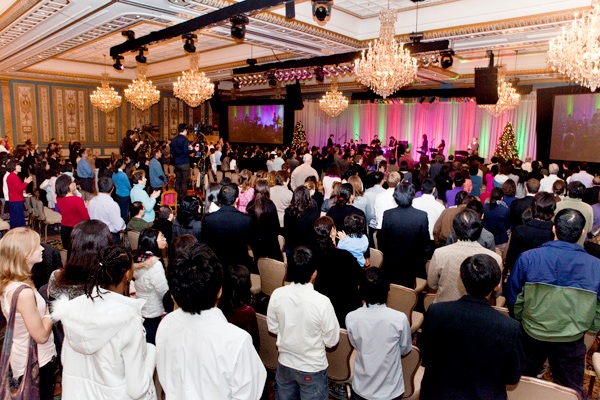 I awoke to the early red-stained morning sky of December 26, 2010, in my friend's car as we drove into Las Vegas. We had rushed with intense anticipation all the way from Los Angeles early that morning. We did not come hoping to win a load of money from the slots. Instead we were excited to see the treasure God had sent to Las Vegas that day.
In the convention center of the Paris Hotel, a live Lovin' Life Ministries service was held with a sermon on Jesus, His significance, and the beautiful gift of True Parents by our National Pastor, Rev. In Jin Moon. After the sermon, Rev. Moon gave Christmas presents to every child in the audience as they left the venue.
Following the service, members of our Unification Church community, both young and old, had ballroom-dance lessons on the tango and waltz given by Ms. Ariana Shin Sun Moon. I was so moved to see my friends and their parents bonding through this fresh experience.
We then had a gala celebration hosted by Rev. In Jin Moon and Lovin' Life Ministries, including an irresistible holiday feast. Rev. Moon took the podium to thank the Unification Family for all of its hard work and asked that we continue to live dedicated lives to God and our True Parents. The night was filled with the joy of reunion and the fun of ballroom dancing.
The next morning, our True Parents, the Rev. and Mrs. Sun Myung Moon, invited the Blessed Families to Cheon Hwa Gung in Las Vegas. Rev. Moon spoke to us and then served us his personally-caught fish, cut and prepared as sashimi.
"I thought the Lovin' Life sermon was really good since I could apply it to my own life. Often times things become habitual for me and I lose sight of the bigger picture. I am excited to see how Lovin' Life Ministries will change and improve in 2011, since it has grown so much in its first year," commented Izak Hernandes from Texas.
"This event and the gala later tonight really motivate me to attend these events. I'm not a great dancer but it's a good event to bring everyone closer," observed Preston Moore, who traveled from Santa Barbara, CA. "My favorite part of Lovin' Life was when I walked in and felt the cloud of love from everybody. I'm looking forward to the new ways of our community in 2011," commented Camy Karam of Los Angeles.
"I was inspired by today's sermon and I especially liked the music. In 2011, I hope to fulfill my own responsibility, and I believe Lovin' Life will bring me closer to my goal," said Tae Onoe, who visited the service from her residence in Arizona.
Like many of those who attended, I was personally moved by the words and actions of Rev. In Jin Moon and her family, who think so much of the second-generation Unificationists. It is inspiring to see a transformation in our church that is aimed at reaching out to Blessed Children specifically. I pray that we can all support her vision and share this love that we have been given.
Contributed by Mark Jung Moore, a graphic designer and second-generation Unificationist living in Simi Valley, California.