| | |
| --- | --- |
| | The Words of the Moffitt Family |
Joyous Ascension: The Offering of Roses and Lilies From True Parents
Larry Moffitt
April 9, 2010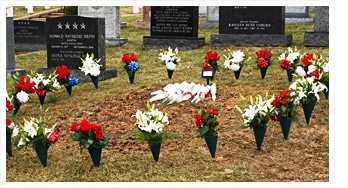 A testimony to the offering of roses and lilies from True Parents to the family of General Alexander Haig.
Alexander M. Haig, Jr., hero of the Korea and Vietnam Wars, and former Secretary of State of the United States, was buried with full military honors at the Arlington National Cemetery on March 2, 2010.
We drove through the east gate of the main entrance, went a short distance and got out. The party of several hundred parked alongside the road and walked to where the casket bearing General Haig sat atop a horse-drawn caisson. The single, riderless horse was led behind the caisson with boots reversed in the stirrups. The horse's saddle had four stars on the side, representing General Haig's rank.
Arlington National Cemetery demonstrates America's sincerity in paying honor to the personal sacrifice of the individual soldier who has served under its flag. It is true of Arlington Cemetery, what Abraham Lincoln said of Gettysburg: "We cannot dedicate... we cannot consecrate... we cannot hallow this ground. The brave men, living and dead, who struggled here, have consecrated it, far above our poor power to add or detract." At this cemetery, established during the U.S. Civil War on land confiscated from Robert E. Lee, there is more sacrifice per square inch in the soil than in any other place in America.
Even in a cold winter rain, under a glowering sky, Arlington is bright.
Walking with the procession down the narrow, winding roads of Arlington Cemetery was an experience of great enormity. On a gentle slope in a section of the cemetery where the top military commanders are buried, General Haig was put to rest in good company. World War II General Omar Bradley is buried a few feet away.
"Stay Close to Me and You Won't Get Hurt."
As General Haig spoke about on several occasions, his life and True Father's intersected for the first time when, as an Army Captain, he helped implement the bombardment and invasion of Hungnam Prison Camp during the Korean War. We all know of the shells falling on the camp and Father telling his followers, "Stay close to me and you won't get hurt."
There were intersections of the careers of the two men in following decades. When True Father heard of the passing of General Haig, he sent a delegation from Korea on his behalf, with Rev. In Jin Moon leading the group. Afterward, she met Father Frank Haig, his brother, as well as Haig's sons. They all expressed their appreciation of Reverend Moon's thoughtfulness in sending his daughter.
Several of the delegation went back the next day to adorn the grave with alternating bouquets of roses and lilies. They were low-profile arrangements chosen with regard to the dignity of Arlington Cemetery and in keeping with the rules for graveside decorations.
The following day we took a vase of roses and lilies to the Haig's residence. Mrs. Haig answered the door and invited us in.
I informed her about the delegation led by Reverend Moon's daughter. I showed her a photo and explained that yesterday we had brought flowers to the general's grave. The photo showed roses and lilies brightly countering the gray sky and chilly rain at Arlington, and the grave that was still too new to have a headstone.
"They're beautiful," she said.
Handing her the vase, I remarked that flowers are a wonderful reminder of God's care for us, and hoped she would accept these flowers on behalf of the Moon Family as a very modest representation of their love and gratitude for your husband.
"Let's find a special place to put them," she said, leading us into the house's formal dining room. She asked her assistant to place a decorative mirrored surface in the center of the table and gently set the vase of roses and lilies in the center of it.
True Father held a dinner at the United Nations building on March 18, honoring General Haig and other leaders in international affairs who had passed away in the previous year. He wished to pay tribute to his friend in the tradition of the Seunghwa, a celebration of a "joyful ascension" as one commences life as an exclusively spiritual being, a rebirth into one's new life as it is understood by all the great religious traditions of the world.
Our movement has always valued the Seunghwa ceremony. As we observed the passing of General Haig, True Father further emphasized the importance of flowers at every step of the process as a person transitions into the spiritual world. Ideally, there should be flowers at the home of the deceased after he or she ascends, and flowers in the vehicle when the body is taken to the church and cemetery. And finally, there should be abundant flowers at the grave. To underscore the feeling of abundance, True Father said a garden of flowers four kilometers on each side would not be too much. Flowers convey a sense of heaven, and it is True Father's feeling that if people really understood the spiritual world and could see what lies beyond this life, that all fear of death would vanish.
In her remarks at a memorial service at the United Nations headquarters on March 18, In Jin-nim called the transition, "A time of rebirth into a new life, and also a time of going back, coming home."
General Haig's son, Alex P. Haig, said, "My understanding of who Rev. Moon was started when I was a young boy, my father went back and forth to Korea many times, and I heard from him about Reverend Moon. He said he liked that Reverend Moon never cared what anyone said about him. 'This is a man of principle,' my father said, 'a man of values and peace. He has dedicated his entire life for these principles and for that reason I am always honored to call him a valuable friend.'"
Death is the one transition of life that brings us all up short. Our predominant emotion associated with it is fear. What Father is doing at this time began due to his desire to honor Alexander Haig. But in the end, it is not about any one man or any one friendship. It is about wanting everyone in the world to be liberated from anxieties surrounding death, and to see this transition that will come to every one of us, for what it really is -- a joyous ascension.