| | |
| --- | --- |
| | The Words of the Miyake Family |
Taking on the Challenge, Reaching the Mountain Top
K. Miyake
February 18, 2009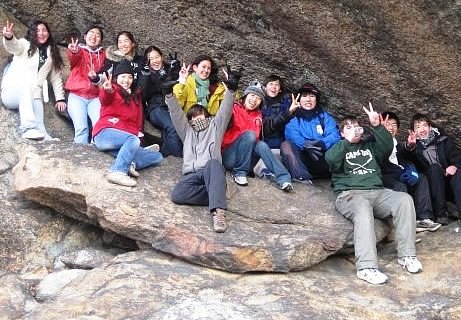 On February 17th and 18th, seventeen Jr. STF participants and staff of the greater New York Area took on a hike up Bear Mountain in its shivering, cold environment as part of their leadership training. Middle and high school students gathered the first day to receive guidance on following our conscience, leading a life by which God can feel great pride and joy, and understanding the components of upholding absolute sexual ethics in their lives.
As part of their leadership training, each participant contributed to the overall hiking program. Some gave presentations and led discussions regarding the topics mentioned above while others organized and facilitated core values activities and reflections along the hike. Deep insights and new realizations were made throughout the two days, each having discovered a higher scope of understanding in who they are in front of God as their ever loving parent.
Pastor of the WestRock Family Church, Reverend Andrew Compton, and WestRock Youth Minister, Hanako Taura, led the entourage of youth through safe yet at times difficult passage. Activities were conducted along the flat surfaces of the mountains where the participants learned more about the value in bringing people together and amongst them, building up a family that's united and loving towards God, as the heavenly parent of all humanity. Everlasting life-affirming principles were also applied throughout the hike, such as challenging one's limitations or keeping God all the way, which empowered the participants with the desire to apply them in their everyday lives.
This hike left the youth fully content for what they've learned, gained and how they've grown within a limited amount of time. All left with a sense of resolve and determination to improve their spiritual lives and see the world around them with a clearer perspective on how to best treat all people within God's human family.
Reflections
The first part of the hike all the way to the summit was like our portion of responsibility to prove to God that we are doing this for Him. There was a feeling of victorious ownership when we got to the summit and we were very peaceful because we made a promise to God to prove we can comfort Him and we kept that promise.
Yoshitaka G.
This was very interesting because the path kind of represented our lives and the obstacles we had to face. The reward for getting by is the amazing view. I think God was trying to convey beauty.
Emre A.
I really enjoyed this hiking challenge because God was included! Also, the core value activities were great because a lot of time and effort was used to create these activities, especially the reflection questions. Furthermore, my goals were achieved throughout this challenge, because I really felt God's presence and Him cheering and giving us true love to whoever participated in the challenge.
Pilsun K.
I really, truly felt God's presence because I felt like God was always behind me with open arms ready to catch us and cheering on. The internal guidance yesterday definitely set a good mood and motivation for this hike. The CV's were well planned out and I learned so much from them, especially from the reflections.
Sayaka A.
I realized that if our focus is related to God, we can have much more energy to substantially create something. It was a great time to challenge ourselves, reflect, and be grateful toward God. The top of the mountain felt rewarding and was sooo B-E-A-Utiful. I also loved the core values activity because it had a profound meaning and I was able to apply core values into real life scenarios. I really thought the hike overall was great. =)
Hyanghwa K.