| | | | |
| --- | --- | --- | --- |
| | The Words of the Miyake Family | | |

Youths Gather for Tsunami Victims and Much More Global Family Festival
K. Miyake
August 4, 2005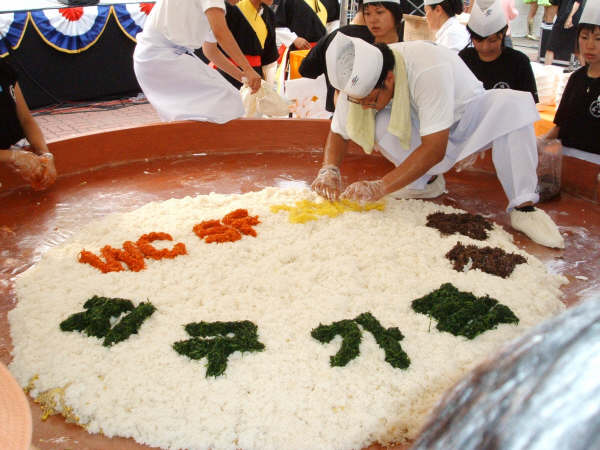 It's cool, I'm enjoying the cultures. I've been to a lot of these kinds of events before, but I think the atmosphere here [in comparison] is so amazing. It's so easy to walk up to anybody from anywhere. I've talked with people from Sri Lanka , Nepal , Afghanistan and other nations [as if] we've already known each other. That's what made it a valuable experience," comments Nathan Mull, 20-year-old international volunteer and participant of the Global Family Festival said on the evening of July 29th. Held nearby the Chonan Sports Complex, the GFF gathered distinguished guests from around the world, representatives of 30 NGO's who've made a collective effort in preparing and executing this festival, athletes of the IPSF, 200 service volunteers from Chonan, and local residents under the festival's theme of "One World, One Family." Targeting to stimulate and nurture love and peace amongst members of countries throughout the world, this IPSF and Service for Peace sponsored event was unique in having followed several community service projects welcoming those usually alienated by society. A few days preceding the GFF, 10 students of Sun Moon University 's Language Institute as well as 40 students from surrounding high schools engaged in a series of activities accompanied by orphans from local orphanages. 80 international volunteers contributed in making a thousand origami paper cranes and writing 150 postcards alongside Korea's physically challenged youths for the Sri Lankan victims of last December's devastating tsunami.
According to the chairman of this festival's preparation committee, Tom Phillips, through these gifts to the people of Sri Lanka and donating the proceeds from the festival to their children, who due to the tsunami have undergone the loss of family and property, he hopes "to bring [the citizens of Sri Lanka] hope and allow them to dream of a better future for their communities." Present at the festival, the mayor of the city of Chonan and members of the Korean National Assembly expressed their pride in holding such an internationally cultural event in their city, also noting how through inviting the residents of Chonan, it gave them an opportunity to meet with foreigners and become more accustomed to the idea of "having foreigners as neighbors."
At the GFF, participants of various religions, nations, and backgrounds took part in a worldwide childhood game of jump-roping with enthusiasm, introduced to each other their nation's dances arm-in-arm, learned to play Korean traditional instruments, and looked around a bazaar set up with a number of stands selling a diverse range of goods before the start of the event while snacking on the multiple cultural cuisines available. The event began with addresses from the festival's chairman and distinguished guests, followed by the mixing of a traditional Korean dish, called Bibimbab, on a plate large enough to serve 250 people, which disappeared soon after it was served.
The Global Family Festival included a series of performances, which were another key method in introducing the participants to the cultures of those present. Each one distinct and enjoyed by especially the youths in the festival, bringing many to the front stage in dance, the performances were comprised of a few songs from a professional Korean folk singer from North Korea, pieces from a popular South Korean band, traditional music and dance from nation groups, a numerous other performances, ending with a spectacular group, Colors of Love. A round of fireworks closed the festival, leaving a deep impression in all who attended, creating memories and experiences never to be forgotten.
By: K. Miyake


Download entire page and pages related to it in ZIP format


Table of Contents


Information


Tparents Home