| | |
| --- | --- |
| | The Words of the Miller Family |
CARE @ Cambodia Children's Project
Marty Miller
May 17, 2009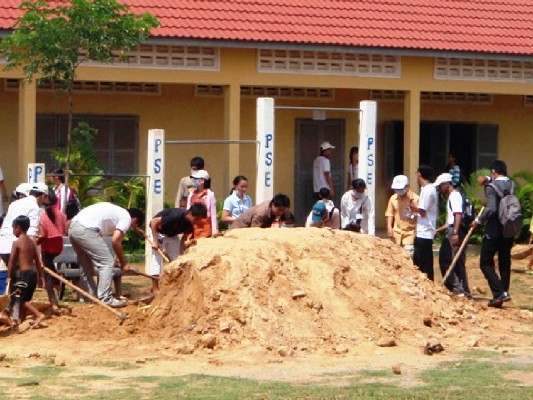 Phnom Penh, Cambodia - Almost a year ago student volunteers from SEACCC "Together We Share" (Southeast Asia Children Charity Community) convened a conference with students from four universities and resolved to raise funds and send a team of students to Cambodia to provide support for less fortunate children. Since then, through fundraising and door to door solicitation they raised over $5,000 USD for Cambodian children.
With the help of logistics teams from the Universal Peace Federation (Global Peace Festival) in Malaysia and Cambodia, from May 14-21 thirteen students from SEACC went to Cambodia to fulfill a promise and a commitment.
As I flew into Phnom Penh's airport I could see a vast undeveloped land, yet there were beautiful and shimmering pools of rice fields amongst the dense forests.
From the cocoon of the bus, the city revealed itself with bicycles, motorbikes, motorized rickshaws, and cars. Pedestrians crowd the city as business is done on every street. The energy and excitement of constant activity is everywhere. The building architecture is influenced by the French. People wear loose, colorful clothing to beat the heat which can feel unbearable if you're not acclimatized to the tropical weather.
Early the next day we visited Cambodia's decent into "hell". The Toul Sleng Genocide Museum S21 and the Choeung Ek Memorial (The Killing Fields) displayed evidence of how the Khmer Rouge killed a quarter of the Cambodian population. There is no way to describe the genocide. To save bullets, the Khmer Rouge killed by the hoe, the historic symbol of the farmer's tool of cultivation and growth. Throughout the trip whenever I looked at a hoe I was haunted. In those days, if you were perceived as a threat you died. Khmer Rouge's motto was "To keep you is no benefit. To destroy you is no loss." The scars from their rule are still evident.
Later that afternoon at the "United Nations International Day of the Family and, International Youth Leadership Conference", held at the Cambodian Mekong University and attended by over 150, Malaysian and Cambodian students met and mingled. Malaysian students gave an inspiring presentation on the collective efforts that took place to create their service project. Nicholas Lee, the humanitarian genius behind the "Power of 10 sen" in Malaysia (a service project that has children donating ten sen [cents] a day for other children), inspired Cambodian students to do the same and raise money with the "Power of 100 reil". Since Nicholas first met SEACC he committed to be the overall project leader and worked tirelessly to ensure every small detail was covered, and there were many.
The sun comes out at 5 am in Cambodia so the typical day starts early. After breakfast we boarded a bus overloaded with Malaysian, and Cambodian students headed to Trapiang Anchang's School. Since it was Sunday the school was closed, and we were told not to expect too much help. As the bus pulled up 50 primary school students eager to help were lined up waiting. On the left as I walked into the school's central area were three finished classrooms, with chairs and tables yet no books. On the right another three classrooms were being built one brick at a time by teenage craftsmen.
In the center of the buildings was a children's delight and an adult's nightmare, a large pile of dirt. The children gleefully ran up and down the dirt hill while the adults realized the dirt had to be moved. The dirt was gathered in straw flat baskets and used to fill in holes around the campus. Everyone pitched in to help including the adults, Cambodian students, and Malaysian students.
A Cambodian medical student shared his vision of a new movement of students committed to helping poor children. Another student remarked at his shock at what the countryside actually looked like, having never been out of the city of Phnom Penh.
A particular act of courage was the son of a Khmer Rouge sharing how for 19 years his family was forced to constantly relocate because of the war. In 1998 he went to school for the first time and completed kindergarten through 6th grade in one year. He is now at the university on scholarship.
The Malaysian students expressed deep appreciation for what they had, and were moved by children who had no real toys, but were still happy and joyful. Through this mutual act of service a bond was built between the Cambodian and Malaysian students and committed to work together in the future.
Next we traveled to Salam Nurul Iman Phnom Perik Ring Islamic School in a remote Muslim village where there is no electricity or sewage system, the women stay at home, buildings were shanties on bamboo stilts, and sleeping accommodations were in hammocks or the floor. I had to suspend my preconceptions of how people in this time and age would live and walked back 100 years.
During our time there, walls were scraped and new paint applied, food distributed, and piles of new learning material were given out, but the real passion surfaced when the students began teaching the children and experienced their thirst for knowledge. Students spent the night at a special house prepared by the village. Many had tears streaming down their faces as we left. When someone you never met offers everything they have there are no barriers, only love.
Finally we arrived at the Mother Teresa Center where the dying are abandoned -- where HIV / AIDs patients live and die. Everyone here knows they are dying, yet it was a place of laughter, joy and happiness. Here we spent time with the patients and planted fruit bearing trees to improve the center's grounds.
The opportunity to provide service to others causes one's heart to open deeper and wider.