| | |
| --- | --- |
| | The Words of the Milingo Family |
Excommunicated Archbishop Urges Married Priesthood
Philip Pullella
January 17, 2008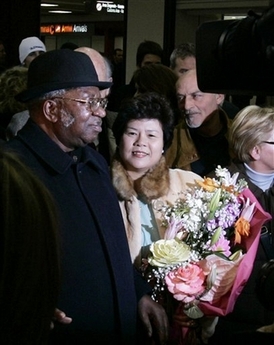 ROME (Reuters) - Excommunicated African Archbishop Emmanuel Milingo took his campaign for a married priesthood to the Pope's backyard on Thursday at a raucous book presentation where supporters cheered him and critics shouted him down.
Milingo, dressed in the same Catholic clerical robes he wore when he was a Vatican official, sat with his demure Korean wife Maria Sung as he spoke in a Rome bookstore about a new book he co-authored called "Confessions of an Excommunicated Man".
"We are claiming our rights. We are priests forever and we are members of the Catholic Church," Milingo said, raising his voice at times when he was contested.
The Vatican excommunicated the 77-year-old archbishop in 2006, when, in a blaze of publicity in Washington, he ordained four married men as priests as part of his group "Married Priests Now".
Milingo, who became famous as an exorcist and faith healer when he lived in Rome and Africa in the 1980s and 1990s, has made it his new vocation to push for a married priesthood. He says that only by allowing a married priesthood can the Church deal with the shortage of priests. According to some estimates there are at least 150,000 men who left the priesthood to marry and many want to return to the active clergy.
"The Church from the start was the Church of married apostles," Milingo said. "Christ did not tell the apostles who were married to leave their wives," he said to the applause of some in the bookstore in central Rome.
"You don't understand anything about (Church) tradition," one man shouted at Milingo.
Priests were permitted to marry during the first millennium of the Church's history, before the celibacy rule was adopted at the start of the second millennium.
In 2001, the former archbishop of Lusaka, Zambia, stunned the Vatican when he disappeared and showed up in New York. There, he married Sung, a 43-year-old Korean woman chosen for him by the controversial South Korean-born evangelist Sun Myung Moon.
He attended a mass wedding in a tuxedo and kissed his white-gowned wife for the cameras in a ceremony in a hotel.
In his book Milingo calls Sung a "soul mate" sent by God.
Milingo later left Sung, rejoined the Church and went into seclusion for a year of rehabilitation in South America before he returned to Italy and moved into a convent near Rome.
But in 2006, he again went missing from the convent, turned up in Washington with Sung, and has been criticising the Vatican over its celibacy rule ever since.
"I am sure that the Holy Father can do much more to clarify the issue of celibacy," Milingo said.
Pope Benedict has repeatedly reaffirmed the Church's celibacy rule, saying it is a gift because priests can dedicate themselves fully to the Church, effectively marrying it.
(Editing by Matthew Jones)