| | | | |
| --- | --- | --- | --- |
| | The Words of the Milingo Family | | |

Renegade Archbishop Rejects Pope's Excommunication
David Alexander
September 28, 2006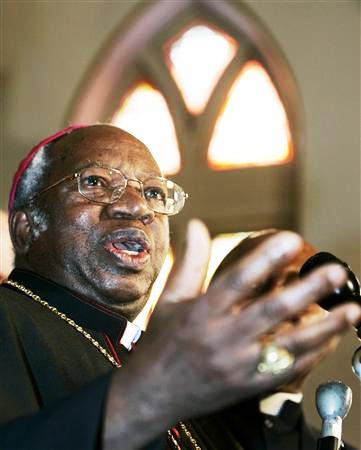 WASHINGTON (Reuters) - A renegade African Catholic archbishop who was excommunicated for ordaining married men as bishops said on Wednesday he rejected the Vatican's censure and would continue his campaign to force the church to accept married priests.
Archbishop Emmanuel Milingo, who made headlines in 2001 when he was married in a mass ceremony conducted by the Rev. Sun Myung Moon's Unification Church, was excommunicated on Tuesday for ordaining four married men as bishops at a ceremony in Washington.
"We do not accept this excommunication and lovingly return it to his holiness, our beloved Pope Benedict XVI, to reconsider it and withdraw it and join us in recalling married priests to service once again," Milingo, the archbishop emeritus of Lusaka, Zambia, said in a statement read at a news conference.
Asked later about the excommunication, he replied: "I'm not excommunicated. Who says? No, I'm not excommunicated. I'm in line with God."
A person excommunicated from the Roman Catholic Church is forbidden from receiving the sacraments or sharing in acts of public worship, but Milingo said he continued to celebrate mass and conduct the faith healing services for which he is noted.
"Myself, I have never stopped saying Mass. Never. Even this morning I have celebrated Mass," he said.
Milingo surprised the Vatican in 2001 when he was married in a mass ceremony in New York to Maria Sung, a 43-year-old Korean woman chosen for him by the controversial South Korean-born evangelist Moon.
In The U.S. Capital
Milingo later left Sung, rejoined the Catholic Church and had lived in near seclusion for several years at a convent near Rome before he disappeared in June.
He resurfaced in the U.S. capital in July, where he held a news conference to announce the formation of a new group, Married Priests Now!, and discuss his new mission of trying to persuade the Vatican to allow priests to marry.
The Roman Catholic Church insists that its priests remain celibate and has ruled out letting them marry, which advocates say would make some men more willing to join the priesthood and ease the shortage of priests in many parts of the world.
"We do not accept what we call the obligatory celibacy but to give option and to recognise that it is a gift, celibacy is a gift," Milingo said on Wednesday.
Priests had been permitted to marry during the First Millennium, but marriage was condemned by the Church at the Second Lateran Council in 1139.
Milingo said the Vatican's stand had led to crisis in the church, with the average age of priests at about 74 years.
"In 20 years there will be few priests left," he said in a statement. "Who is going to provide the sacraments and the Eucharist to the people?"
He said many priests forced to leave the priesthood because they married would be willing to return to the ministry.
"There is a desperate need for priests now and in the future, but we have almost 25,000 married priests in the United States and almost 150,000 worldwide who are not being called to service because of a Mediaeval, church-imposed regulation that priests be celibate," Milingo said.
Several bishops who support Milingo attended the news conference and said his group Married Priests Now! was still organizing but hoped to remain within the Roman Catholic Church rather than form separate congregations.
They noted that some former Anglican, Episcopalian and Lutheran ministers had been allowed to become priests despite being married.


Download entire page and pages related to it in ZIP format


Table of Contents


Information


Tparents Home