| | | | |
| --- | --- | --- | --- |
| | The Words of the Milingo Family | | |

Vatican Raps Married African Archbishop - Married African Archbishop Says Vatican Is Threatening to Keep Him From Celebrating Mass
Rachel Zoll
September 17, 2006
AP Religion Writer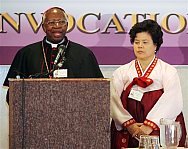 .Archbishop Emmanuel Milingo and his wife Maria Milingo speak at the Married Priests Conference in Saddle Brook, N.J. on Sunday, Sept. 17, 2006. Archbishop Milingo, whose 2001 marriage caused international scandal within the Roman Catholic Church, pledge to continue to lobby for optional celibacy despite the threat of excommunication. (AP Photo/Tim Larsen)
SADDLE BROOK, N.J. Sep 17, 2006 (AP) -- An African archbishop who scandalized the Roman Catholic Church when he was married by the Rev. Sun Myung Moon said Sunday that a top Vatican official has demanded he repent or his authority to celebrate Mass and perform other duties will be suspended.
Archbishop Emmanuel Milingo said that Cardinal Giovanni Battista Re, head of the Vatican's Congregation for Bishops, has demanded that Milingo send a letter of repentance by Oct. 15 to Pope Benedict XVI or face "canonical suspension."
"Your behavior, activities and public statements during these past few months are completely contrary to the obligation of every bishop," Re wrote in the letter, a copy of which was shown to The Associated Press. "In the name of Jesus Christ, I beg you to reflect seriously on your behavior and all its consequences."
Milingo, the retired archbishop of Zambia, was in New Jersey with is wife, Maria, for a conference of priests and their wives organized by his new advocacy group, Married Priests Now!. Asked how he would respond to the Vatican, he said, "I will stay with them" meaning married priests.
The meeting north of New York City was meant as a strategy session on how married priests can convince the Vatican to make celibacy optional and return the men to ministry.
Milingo, 76, has long been at loggerheads with the Vatican.
Before his marriage, Catholic officials accused him of promoting African indigenous beliefs by performing mass exorcisms and healing ceremonies. Then in 2001, the archbishop married Maria Sung, a South Korean acupuncturist Moon chose for him, at a mass wedding in New York.
Four months later, Milingo renounced the union, after a personal appeal from Pope John Paul II. But Milingo said he grew frustrated by restrictions on his ministry, so he fled Rome.
This past July, he reappeared in the United States to announce his new organization.


Download entire page and pages related to it in ZIP format


Table of Contents


Information


Tparents Home