| | | | |
| --- | --- | --- | --- |
| | The Words of the Milingo Family | | |

A Short Biography of Archbishop Milingo
2006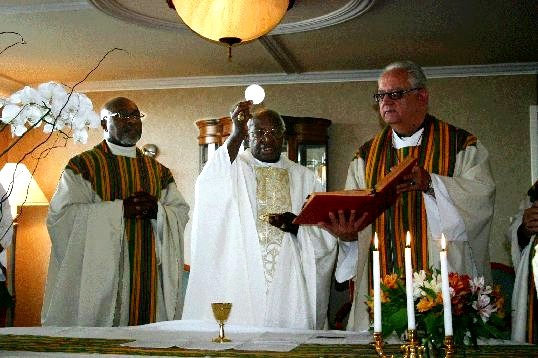 "I will apply myself for God and my next of kin" is the motto of Archbishop Emmanuel Milingo.
Emmanuel Milingo was born in a poor farm village in Zambia in 1930. He was educated in St. Mary's Presbyterial school in Chipata and attended the Kasina and Kachebere Seminaries. He was ordained in 1958, and served as parish priest in Chipata from 1963 to 1966, when he founded the Zambia Helpers Society. He was the secretary of Mass Media at the Zambia Episcopal Conference from 1966 to 1969, when he founded the first of three orders, the Daughters of the Redeemer. In 1969 Pope Paul VI consecrated him as the Bishop of the archdioceses of Lusaka, the capital of Zambia, as one of Africa's youngest bishops. He served there for 14 years.
In the 1970's Archbishop Milingo became famous as an exorcist and a powerful spiritual healer. In 1983 he recalled to Rome because of controversy over his "non-conventional" healing ministry. In the Vatican he served on the Pontifical Council for Pastoral Care of Migrants and Itinerant Peoples.
In Rome, Pope John Paul II protected the Archbishop's charism. He appeared on Italian TV and radio shows, and conducted healing masses throughout Europe which attracted thousands upon thousands of people. This did not sit well with some bishops in Rome. The more his ministry grew, the more his freedom to celebrate mass was restricted. "Just because something is good, and for the welfare of the Lord, doesn't mean it won't meet opposition," he has said.
Jesus charged his own disciples to heal the sick, cast out demons and preach the Gospel. (Matthew 10:8, Mark 16:15 KJV). Archbishop Milingo takes this apostolic direction seriously. He says, "With these three we are able to complete our mission and our apostolate...What people experience at our prayer meetings is the presence of God."
Despite his great love for the Roman Catholic Church, the Archbishop's public call for an end to mandatory celibacy in 2001, punctuated by his very public marriage to a Doctor of Acupuncture from Korea, was rejected as an embarrassment. At the Holy Father's urging, he set aside his marriage and returned to his healing ministry in Zagarolo, outside of Rome. His disappearance and return, seclusion and subsequent restriction left many questions unanswered. After 5 more long years of constant observation and restrictive supervision, he has again emerged to awaken the conscience of the Church he loves.
About himself, Archbishop Milingo says, "I don't want to be put on a pedestal. I lead a simple life. But when it comes to prayer, I'm actually calling on the name of Jesus. When I pray, I pray with such confidence that I'm sure the Lord is with me."
He is a gifted singer, as well as the author of several books, including The Flower Garden of Jesus the Redeemer, Precautions in the Ministry of Deliverance, Against Satan, The World in Between: Christian Healing and the Struggle for Spiritual Survival. He has had many books written about him, and has produced his own CD.
Archbishop Milingo, now 76, continues to celebrate Mass every day.


Download entire page and pages related to it in ZIP format


Table of Contents


Information


Tparents Home