| | |
| --- | --- |
| | The Words of the Francis Family |
Maryland Prayer Breakfast
Randy Francis
September 30, 2007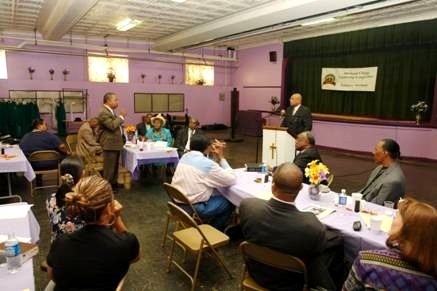 Baltimoreís ACLC team hosted the Maryland monthly prayer breakfast on a crisp autumn Saturday morning starting a little after 9:00 a.m. at a beautiful small church, St. Marks Institutional Baptist Church in a west side Baltimore neighborhood. The energetic host pastor, Rev. Derek Hart, had attended a prayer breakfast as a guest earlier this year and had accepted an invitation by Rev. Willie Ray, one of the elders of the Baltimore ACLC clergy team to host this prayer breakfast.
Our total participation numbered 35 persons--including our wonderful hospitality team of Hyang Joong Reddin, her daughter, Yoko Crawford, and a blessed 2nd gen wife, Yoshimi Fukui -- there was a good balance of Christian ministers and lay members, FFWP brothers and sisters, and even a handful of 2nd generation teens from the Stewart family.
Our keynote speaker, Bishop Joseph Showell, Pastor of the Gospel Ark Temple Bibleway Church of Washington DC, and a supporter of ACLC for several years, gave a wonderful message of encouragement to Christian ministers who take up the cross to advance the mission of ACLC. Through Bishop Showell, much wisdom came for those who put the seeking of Godís Kingdom first. His message touched all of us, clergy and lay persons, Christians and non-Christians alike.
Because of the inspired witnessing and outreach efforts of one of Baltimoreís more well-known community activists, Rev. Willie Ray -- our master of ceremonies this time, the participation of the Maryland ACLC outreach volunteers, and the sincere curiosity of a number of the host pastorís ministry staff, we had a very receptive audience.
No one could deny that the Holy Spirit had moved throughout our gathering this morning. Our host pastor was extremely happy and honored that ACLC could have its prayer breakfast at his church and welcomed us to come back anytime.
Our regional co-chair, Rev. Dr. Howard, gave this prayer breakfast a much better grade than many of our previous programs (practice makes perfect). Heavenly Fatherís intervention and blessing of our efforts to be consistent were clearly apparent to the Baltimore coordinators and minister team as we did not truly have a lot of time to prepare this particular prayer breakfast. Surely the hosts of heaven (absolute good spirit world) assisted us because of brothers and sisters (ACLC and FFWP members) working together!