| | |
| --- | --- |
| | The Words of the Francis Family |
Thank You All!
Randy Francis and Gail Paine
May 25, 2007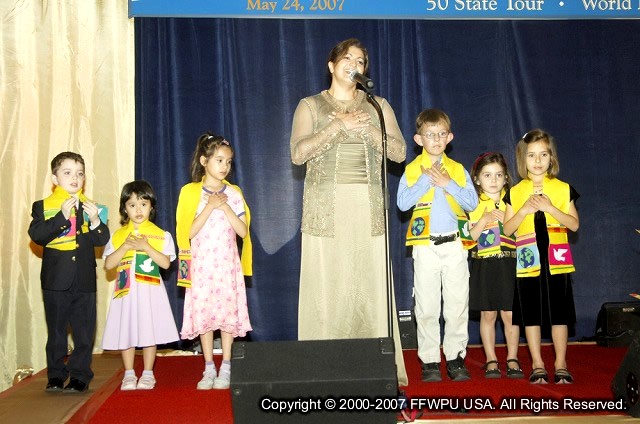 Dear Brothers and Sisters,
Last night was wonderful!
Thank You ALL!
Thank you so much for all your support and hard work. The 80 newly appointed Ambassadors for Peace (AFP) were of a high caliber, and were very joyful and excited. Here are a few examples of the reflections:
Dr. BELAI-Medical Doctor, Ethiopian Radio Talk Show Host
Give my love and respect to Rev. and Mrs. Moon! I want to say thank you very much for having and sharing a life of vision, value, and destiny. We enjoyed this beautiful program today-especially I was heartened by Rev. and Mrs. Moon's anointing of women, to be the next leaders of peace. I share and appreciate his concern for vulnerable people around the world.
The vision of the island nations bringing renewal and harmony to the world is well taken. May the Lord Bless you and your family and your vision for peace and prosperity! I will dedicate my talent and resources to bring to reality your vision and love for humanity. We love you!!!!
Govinda Giri Prerana-Journalist and writer with Nepalese newspaper
It was the most wonderful program I have ever attended. One of the delegates from Nepal who attended the Washington Times Gala, was the daughter of our current Nepalese Prime Minister-she also had great interest in Rev. and Mrs. Moon and their vision, -On this program tonight I was so excited to hear the speech of Mrs. Moon-I am going back home with new vision and new life!
Dr. Condie m. Clayton-Minister of Cedron Brook Baptist Church
I want to thank the folks that extended the invitation to me to come here tonight. It is great to awarded for what comes natural -being helpful and encouraging-giving hope and possibility. But more importantly through this program, we can encourage others to do likewise. Like throwing a pebble in a lake-this program will allow that to happen. It's not who is right, but what is right.
Our AFP Initiative in District I has been greatly strengthened. Our current AFPs were very active in mobilizing for last night's program, and personally were very excited to participate in the program. (Dr. Kazmi, Minister Gupta, Manuel Uriarte, Jan Du Plain, Rev. Wells, Rev. Young, etc etc. ) AFPs are beginning to really step up to the plate and bring their friends and contacts proudly to our True Parents' vision of peace
We are getting closer to our goal of establishing AFP Associations in each "state" in the Metro Area. Since the beginning of this year, much progress has been made in identifying our core AFPs and encouraging their sense of ownership to work for God's vision of peace. Last night was the manifestation of their new sense of commitment to the AFP Initiative.
Also in 2007 we have formed "working groups" in each state, and two wonderful brothers have volunteered to be AFP coordinators; Chisoni Ngoma-DC, and Greg Jones-MD. Chisoni, assisted by his working group, (Chi Mauoso worked very hard) brought many new Ambassadors for Peace. Thanks to Julia and David Hess for bring the Buddhist monk who was so delighted to become an AFP. We are still praying for a coordinator to come forth in VA, however in the meantime we have a solid "Northern VA working group" along with Pastor Goto who coordinated current AFPs to bring many many guests last night. Great job! Also Father Bayo, although he has the challenge of being farther away, brought many distinguished new AFPs.
Let's turn our attention to the Baltimore event and particularly MD brothers and sisters can nominate new AFPs at the event on June 3rd. It is essential to fill out application forms which can always be printed from our website; ambassadors4peace.org and fax or email them to Greg Jones at: greggj82@gmail.com
Some brothers and sisters gave us just names over the phone for newly appointed AFPs last night-please fill out the application form completely for your guests. This ensures that your AFP will be entered into the online data base and thereby kept informed of AFP programs nationally and internationally through receiving the email newsletter, and will be invited to subsequent forums and events automatically.
Thank you so much for your diligence and support.
God Bless,
Randy Francis
Director, UPF-District 1
Gail Paine
Secretary General, UPF-USA-District I