| | | | |
| --- | --- | --- | --- |
| | The Words of the Francis Family | | |

Here Is A New Flyer And Simple Letter
Randall Francis
August 31, 2006
Dear Brothers and Sisters,
Here is a new flyer and simple letter. Please personalize it. You can use this to email to your guests if you like. God Bless you and see you at the event. Please remove this part before forwarding.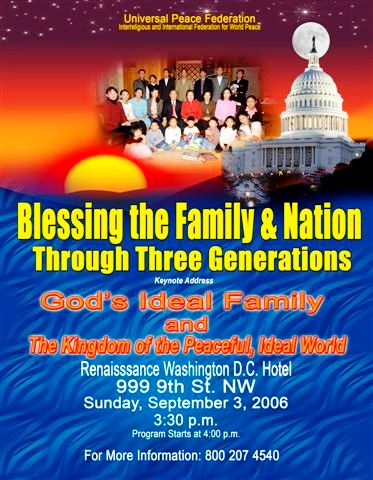 Dear Pastors, AFP and Community Leaders,
On behalf of the Universal Peace Federation of North America and its founders, Dr. and Mrs. Sun Myung Moon, we are pleased to invite you to attend a special event to bless our families and strengthen our nation. *This UPF Family Tour for Peace will conduct a special gathering on * * Sunday, September 3rd at the Renaissance Washington, DC Hotel 999 Ninth St NW Washington, DC. The doors open at 3:30pm with the main program at 4:00pm. *The Renaissance Hotel is located near the Gallery Place/ Chinatown Metro with plenty of parking available nearby.* *
This World Peace Tour, coming on the heels of a wonderful ACLC/UPF conference in the Bahamas, will come to 12 cities in the United States and 480 cities in 40 countries around the world (12 cities in each of the 40 countries). This noble effort will bring together people of faith, character, and conscience in the spirit of hope and encouragement. Dr. Sun Myung Moon, his wife Dr. Hak Ja Han Moon, their sons and daughters and college age grandchildren are touring the world together. The three generations, working together for the cause of world peace, help to vividly illustrate that the family is the universal expression of God's love and the common ground upon which we all stand. In each city, one of the family members will give a special address concerning the centrality of faith, family and True Love as the cornerstone of hope for each community and our nation. Here in Washington, DC our keynote address will be given by Dr. Hyun Jin Moon*. *
Please join us at 4:00pm on September 3rd at The Renaissance Washington Hotel for this most timely event. For more information, please contact us at 1-800-207-4540.
You can also contact your local UPF representatives for more details. UPF and the Family Federation for World Peace and Unification are the major co-sponsors of the U.S. 12-city portion of the world tour. Along with support from ACLC, WFWP AFC, CARP.
Sincerely,
Rev. Randall Francis
FFWPU District One Director
Washington, DC


Download entire page and pages related to it in ZIP format


Table of Contents


Information


Tparents Home