| | |
| --- | --- |
| | The Words of the Cooper Family |
A big BIG thank you
Simon Cooper
May 14, 2011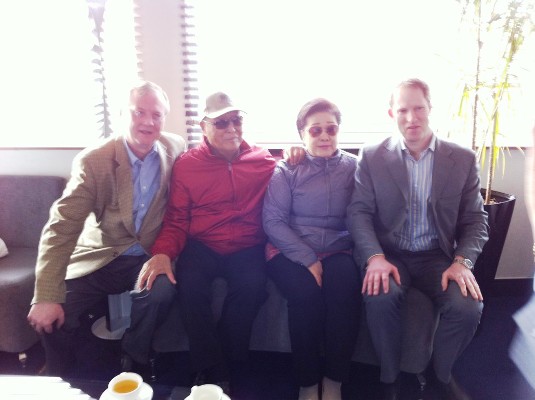 I want to say a very big BIG thank you to all the staff from our movement and all the volunteers from our different communities who have worked together with a clear sense of purpose over the last few weeks preparing for our True Parents' visit. They did an amazing job. So many people gave their time, their skills, talents, and resources, their cars, their voices, their passion…
Last time we did something like this when True Parents were here in 2005 we held an event for around 750 in central London. This time we were well over 1300 and with another 1000 plus watching on line. Since the event another 750 have gone online to watch.
One newspaper asked the question in their headline on the day of True Parents' departure: "Are the Moonies ready to shine brightly again?"
Yes, absolutely.
Thank you for inviting your friends, family, neighbors, and guests. It was so uplifting to see new people and new members meeting True Parents for the first time both at the evening event and also the early morning study time (Hoon Dok Hae) event.
And the newspaper headline is really there to pose a question to you and I. That will be the message title this Sunday at 43LG: "ready to shine brightly again?"
The first words Father shared with us when he sat down in his hotel room last week straight in from Luton airport were: "Is everyone distributing 430 copies of my autobiography?"
There is a lot more I would like to share. And I was moved so many times by so many different moments. But for now I will leave you with a clip from the airport as they waited to take off for the next stop in Geneva. It was nice just to sit and watch them just being completely them selves, as they always are.
And then we had a picture taken that Yeon Ah Nim tweeted to me. The light wasn't so good for the picture, but it was a special personal moment.