| | |
| --- | --- |
| | The Words of the Cooper Family |
An indirect gift from a grandfather to his grandson
Simon Cooper
April 1, 2011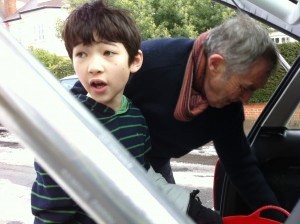 Damon and his grandpa shifting firewood out of the car
Damon moved school last week. He has been there for about 5 years, so though he's trying to be a man about it, he clearly misses it, and especially his friends. When I took him for a drive to the petrol station the other night to get a mint Magnum choc ice, and essentially to see how he was doing, he did finally admit to saying he thinks a lot about his old school and wonders what his friends are doing. At Wendell Park, the school he left, they have a talent contest called the W Factor, tonight, and he really wanted to go and see all his friends again. Chieko txted me in the office this afternoon that the tickets were sold out and Damon was quite upset and had disappeared off into the house somewhere.
My first thought was: "well, there must be someway to get some tickets or get him over into the event." So I called the school, and to cut a long story short, was able to call Damon at home and tell him I had managed to get him 4 children's tickets and 1 adult for Chieko to take them down there. (I think Amy will get in free). He was so happy. After, I thought about it, and I remembered all the times in my childhood I had watched my Dad never take no for an answer, and sometimes finding tricky ways to make something happen. Especially once when we went to the USA for our most famous family holiday when I was six. I remember the flights to NY were sold out. But he came up with a clever plan through booking and canceling at the right moment and doing something 'clever' to make some space on the plane.
And so, I just called my Dad in his office, to tell him how happy Damon was to hear about the turn around of events for his trip back to his old school. I told Damon's grandfather how it's indirectly down to him and all the times I observed him in my childhood, never giving up after round 1, but coming back and trying another way to get a result.
Think today about what little things you inherited from your parents that you are grateful for. If they are still around say thank you. And if they have passed on say a prayer for them. In our Korean church they call that Hyo Seong.