| | |
| --- | --- |
| | The Words of the Cooper Family |
Hyung Jin Nim comes to visit our home
Simon Cooper
August 18, 2010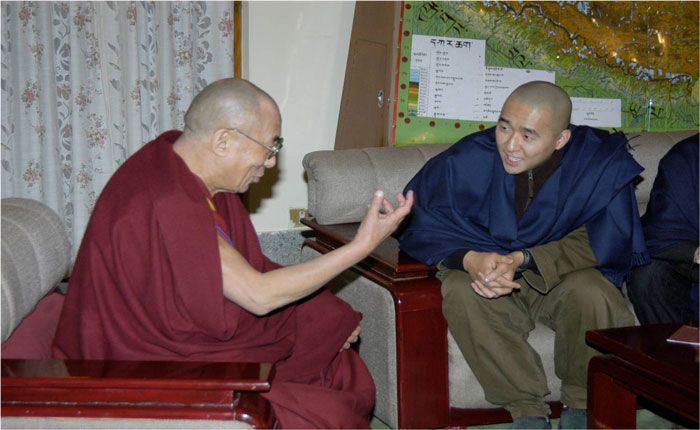 Hyung Jin nim and the Dalai Lama
Sunday 29th in the evening Hyung Jin Nim and Yeon Ah Nim will be arriving in the UK. The next day on the 30th August, the English Bank Holiday Monday, they will meet with all of us in Chelsea Town Hall. Please see below for more details. You should be receiving information from your pastor at church this Sunday and by email.
What I want to talk about right now is understanding why he is coming. I think it is good to ask ourselves this question, and take our time to prepare our mind and heart to be able to connect to our International Church President and his wife. Firstly, let us think of what it means for them to come together. They have several children, and so it means already for any parents that is a big step, to have to leave them in the care of others as they visit different continents. Let us not take that for granted.
The next thought that comes to me is that I can already grasp a strong sense of what Hyung Jin Nim's message is by watching his sermons online, or reading them when Bruno emails them through to me, so what does it add by him coming here? Of course it allows him to see where we are, and maybe a bit how we are. But also they are coming representing True Parents and all that that signifies. He is constantly developing his life of being a disciple to the returning Christ, and that is something I hope we can all learn from while he is here.
Being able to host them allows us to develop a different type of relationship. Recently as I have been visiting members of my congregation in their homes in the evening I get struck by how special it is to meet like that. How meaningful it is for us to host each other in our homes rather than just meet in meetings or at events. When we are in someone's home we share an intimate moment / part of their life, because our homes are like the little universe that we create. In a sense Hyung Jin Nim's visit to our nation allows him to visit our home, and of course he will also visit 'a' home of one of our family members while he is here.
True Father never really stopped inviting us in to his home, but it's not quite the same when it is hundreds and thousands of people. His hope is that we will take that culture of heart, that he pioneered, where people are connected to God's heart through our hospitality and service.
The heart of a sincere host is that they prepare well. I hope we can all prepare a willing and open heart for our visitors at the end of this month. It is not a show, he is not a celebrity, or someone who will solve our problems for us. But the give and take that we all have together while they are here can bring a lot of blessing from God if we take the time to pray and reflect about 'why are they coming. These are just my thoughts, so if you have any good realizations or questions feel free to post them below. If you want to find meaning it always helps to ask why?
In 43Lancaster Gate we are offering morning prayers and study at 5 am everyday so if you live in London feel free to join us sometime. There is one brother who comes everyday by night bus and manages to get there before me. We also are doing a 21 day prayer condition every evening that you are welcome to join. But why not get together with some friends in your community and pray, or study together over the next week, preparation is a big part of any success.
Here are some practical details:
There will be a meeting where Hyung Jin Nim will meet and speak to all UK members and children 10 and over.
Venue: Chelsea Old Town Hall, Kings Road, London SW3 5EE Date and time: Monday 30th August at 10:30 for 11:00 am
Immediately after his speech, there will be an opportunity to take family photos with Hyung Jin Nim and Yeon Ah Nim. This will need to be organized very smoothly so parents should quickly, after the speech, gather their children together. Immediately after their photo is taken, we encourage families to leave the hall.
Unfortunately it will not be possible to bring younger children to the event due to lack of space, so please try to arrange for care in your community to allow as many as possible to attend the speech.
The talk will last about 2 hours and the photo sessions should be over by 3:00 pm.
In order to cover the costs of this visit there will be a small fee for all those attending. Please pay this to your Pastor and receive an entry ticket from them.
Adults -- 18 and over £10.00
Young people aged 10 -- 17 £5.00