| | |
| --- | --- |
| | The Words of the Cooper Family |
Grand Balloon Race
Simon Cooper
August 12, 2010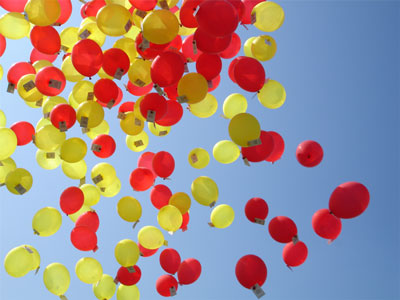 Call Simon Rosselli for tickets!
Balloon Race for Lancaster Gate Facade
In the afternoon after the Hyung Jin Nim has spoken to members we will be holding a Grand Balloon race. Some balloons travel to France and Holland. It is a great event and all proceeds will be going to support the facade at Lancaster Gate. As you know this is going to cost in the region of £150,000 and we aim to borrow around £100,000, so we need to look at raising another £50,000 ourselves.
Already bills have started to come in as we have had to appoint a project manager who will liaise with the council, health and safety and the conservation officer as well as sending the project out to tender and to see it through from start to finish. At present we have had bills in excess of several thousand pounds, in order to hire a platform lift so the facade could be inspected and paint samples taken. The paint is then analyzed in order to find how best to get it off and what paint needs to be put back on. Once we have the results we can then send the project out for tender. Being already August and by the time the quotes have come back in, in reality work will probably start in the spring next year. (Paint and other work can't take place if the temperature drops below a certain level).
Our first fundraising event will be the balloon race after Hyung Jin Nims speech. Each ticket is £2.50 or five tickets for £10. The winners will be the balloons that go the furthest.
We have three marble vases for the winners (kindly donated by Alec Herzer) and are hoping to ask Hyung Jin Nim to sign something (for the overall winner -- although this can't be guaranteed) and it may be possible for him to release the balloons with Yeon Ah Nim. We are also hoping to source other prizes.
Ticket £2.50 -- Five tickets for £10
All you need to do is put your name and address on the bottom of the card. Please don't tear it off, we will do that at headquarters. If you have any spare tickets please also hand them back into headquarters as they cost money and it takes a lot of time to put labels and numbers on each ticket.
If you run out of tickets please call Simon Rosselli for more.
Please hand them back to your regional representative as soon as possible so we can get them processed. It makes it very difficult if I get them all back on the day. Better odds than the lottery but you have to be in it to win it!!!!
One question we get asked is "Is it environmentally friendly?"
All our balloons are made from latex which is a natural product and breaks down at the same rate as an oak leaf. We do not use foil balloons and we do not use string, or use plastic valves when attaching to the balloon.