| | |
| --- | --- |
| | The Words of the Cooper Family |
There's Music In The Air -- Music Ministry Update
Simon Cooper
August 6, 2010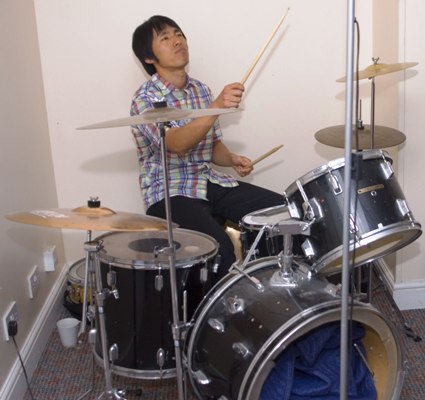 As the summer continues to roll on, Music Ministry is slowly moving towards its goal. We started out with many plans, goals, and deadline dates in April, and now here we are three months down the line, evaluating and re-planning our next steps. Our plans for an up and running studio are falling into place. The studio is currently being used for weekly band practice, and recording projects, as well as our temporary office.
Promotion and advertising for studio hire is also underway, but there is always more to do! Valdec has recently been working on the Kent room floor, putting in special insulation material to help stop sound leakage from both rooms, as this can be a problem for recording. Eventually, we plan to buy a vocal booth, which will allow us to isolate vocals and other instruments, giving a more professional result on recordings. It looks like it will be a while before the new Music Ministry Office is done and dusted. Construction-wise, a lot of things need to be done. We need a new roof, which in priority comes before anything else in that area as it could get a bit wet in there otherwise.
We're currently working on a Music Ministry band and choir set up, that we're hoping to be a long-term commitment, which will boost the quality of headquarters Sunday service, and raise the standard of worship. Eventually, we plan to spread this growth simultaneously within all regions across the UK. On Wednesday 21st July we met with those hoping to help and support in that area, discussing possibilities and suggesting ideas, as well as explaining/introducing our goals and plans for this year's Music Ministry. It was a productive meeting, which allowed people the opportunity to be on board. A lot of things we are doing require a lot of financial assistance, so please don't hesitate to donate on Virgin Money Giving. We will be organizing events throughout the year to raise funds, so please come along and support us whenever you can! If you'd like to get involved you can get in touch with us at.