| | |
| --- | --- |
| | The Words of the Cooper Family |
A clear direction from True Parents to blessed families
Simon Cooper
June 7, 2010
Recently I have received several emails about concerns church members have regarding the disagreement and confrontation that took place in Sao Palo, Brazil, between Hyun Jin Moon and the Continental Director for South America, Rev Shim, who is appointed by True Parents.
It is quite apparent that some members of True Parents' family do not always see eye to eye. This is perfectly fine and normal in life, but the problem is when those differences spill out or are played out in the public arena. As in most conflicts things are rarely straight forward, so unless we are personally involved and able to help bring about a solution it is best not to start taking positions and developing theories of who is right and who is wrong.
As a Unificationist what is important is to offer our devotion to God and connect to the heart of True Parents that we can discover through studying the Principle and practicing it in our day to day circumstances.
As a result of this incident in Brazil True Father has made an announcement and direction for all blessed family members. He has taken the significant step to write it by hand and sign it with his own signature. I take from this his desire that people believe and follow his guidance and understand what he wishes to clarify.
Please see below Father's calligraphy and also an English translation: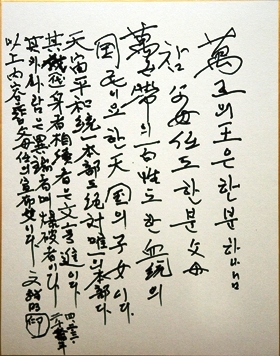 No. 1 Father's proclamation explaining from where authority begins in the organization of the Unification Movement.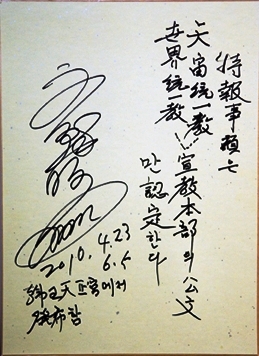 No. 2 Father's perception on official international memos in the UM
Translation:
No. 1 says:
God is the one King of Kings.
There is only one set of True Parents.
All families are the people who share a single lineage, and are the children of one heavenly kingdom.
Moreover, the command center of cosmic peace and unity is the absolute and unique command center.
Its representative and heir is Hyung Jin Moon.
Anybody else [who claims such a position] would be a heretic and one who brings things to destruction.
The above content is True Parents' proclamation.
[Signed] Sun Myung Moon
(Father wrote the character for "seal" indicating where his seal could be placed)
2010.4.23 by the heavenly calendar
No. 2:
Special note: I recognize only the official memos from the World Mission Headquarters of Tongilgyo of Heaven and Earth Tongilgyo International.
[Signed] Sun Myung Moon
2010.4.23 by the heavenly calendar
June 5, 2010
Announced at Cheon Jeong Gung, Korea
I hope this helps you to know where True Father stands on any friction that may exist amongst leaders or members of his family. I think he also wants to dispel any ideas that memos go out to our international community with out his approval. He may be 90 years old, but he is fully in charge of charting the course of the Unification Movement and guiding those who take public roles with in all its different organizations. His mind remains sharper than any razor you may use on your face or legs, so be cautious about being ageist.
Personally I feel it is a hopeful reality that issues of unity with in our movement can be addressed by Father directly while he is still with us. In that sense all that goes on in our community (good and bad) if dealt with in a principled way can only help to secure the future.
Of course we have been taught to love the family of our True Parents and we should continue to do so, but let us remember as Father has made clear there is only one God we worship and that is the invisible one.
There are times when we all feel that the leadership we experience does not inspire great confidence. That is always a good time to reinvigorate our own life of devotion to God so that we are able to ensure that we are spiritually healthy and full of blessings to share with others.
The Divine Principle is the rock on which Father has diligently built his life and ministry. He has only been able to consistently develop and expand his mission because of that fact. It is also the foundation for all that is good and eternal in our life.
This week our regular "Wednesday's evening prayer for healing" in 43 LG will be dedicated to prayers for unity amongst our movements international leadership and also to give people a chance to express any concerns they have and ask questions. Please feel free to come along. 7.30 pm -- 8.30 pm Wednesday 9th June.
On Thursday I am going to Korea to celebrate the upcoming Day of All True Things with True Parents and also to take part in a national leaders meeting which I am sure has partly been called to address the current friction that has just taken place.
I will keep you updated.
God bless.
Simon
Your Pastor