| | |
| --- | --- |
| | The Words of the Buessing Family |
The Third Annual Family is the School of Love Gathering
Marjorie Buessing
April 18, 2011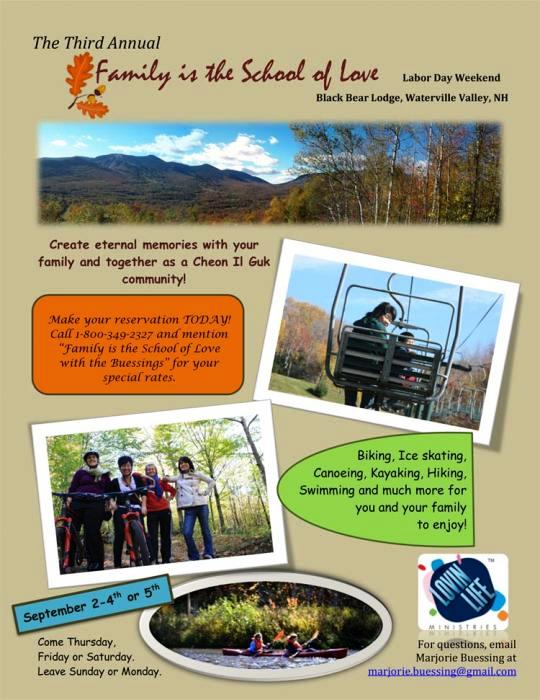 September 2-4 or 5, 2011
Black Bear Lodge, Waterville Valley, NH
Dear Brothers and Sisters,
We had such a wonderful Columbus Day Weekend at the Family is the School of Love Gathering that we made arrangements for this 2011 year. Starting today you can call and reserve your condo at the Black Bear Lodge. 800-349-2327 Ask for the rooms reserved for Family is the School of Love on Labor Day Weekend with Richard Buessing, group, choose a room size and give them a credit card or make other payment arrangements. We had 80 rooms this year but they are starting to ask for them back because no one has signed up!!! (We now have 75!) Last year I had to release the unrented rooms 3 weeks before our gathering. They all filled up due to Columbus Day weekend and we had to turn many families away that wanted to sign up late. Please sign up now, if your situation changes you can cancel up to a month before hand with no penalty or charge.
Rooms with prices including all taxes are:
1. Superior (sleeps 6) $98.20 per night (only 6 available)
2. Deluxe (sleeps 6) $108.12 per night (bigger and lots of them)
3. Loft (sleeps 8) $127.96 per night.
If your immediate family is larger than 6 it is ok to squeeze into one condo, if two small families are sharing they must be in a room that accommodates the number of people correctly. You will get one activity pass for each person registered in your condo. These passes give you access to:
1. Free canoeing, kayaks, or paddle boats for 1 hr per day per person on Corcoran's Pond
2. Free mountain bike rentals for 2 hrs per day
3. Free 9 holes of golf each day
4. 1 free ski lift ride to the top of the mountain each day
5. Free scheduled use of 18 clay tennis courts
6. Free use of the White Mountain Sports Club with indoor and outdoor swim pools, children's pool, saunas, whirlpools and weight rooms. And More….
7. Free Ice Skating and Skateboard Park (Bring your own equipment)
Other Activities or facilities that are available are: a children's playground, sports fields, basketball at the community gym, and many beautiful hiking trails. Pack play clothes, sports equipment, and swimsuits. Bring the food you would be cooking at home and prepare it in your condo's fully equipped kitchen or visit some of the valley's restaurants. Come create eternal memories with your family and as we experience Chung Il Guk together.
We look forward to sharing God's autumn together with you this Labor Day weekend in Waterville Valley. We are already planning some new group activities for next year. Please reserve your room right away. Bring another family with you.
With Love
Rev Richard and Marjorie Buessing