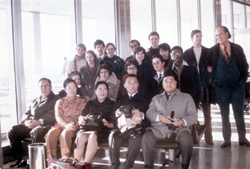 Having established Holy grounds and officiated at the Blessing Ceremony on his first and second world tours respectively, from December 5, 1971, Reverend Moon undertook a 156-day tour of fifteen countries.
After arriving in America via Japan and Canada, Reverend and Mrs. Moon held a "Rally for God" at the Wall Street Plaza in New York, met with Nobel prize winning poetess Pearl S. Buck, and with American Senators and Congressmen. Reverend Moon also gave a public lecture at the Los Angeles Ambassador Hotel. He then visted certain nations including Britain, Germany, and Greece, and organized rallies for the victory over the rise of world communism. Soon afterwards, he set up the One World Crusade (OWC) evangelical team in America-which would later support the expansion of evangelical work in other countries-with young members from the United States, Britain, Germany, and Japan. Reverend Moon returned to Korea on May 8, 1972. This period constituted the providential and historic public declaration of Reverend Moon's teachings.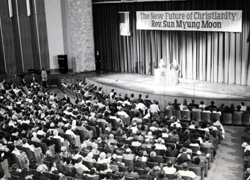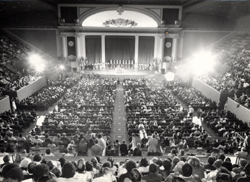 Reverend Moon worked actively in Korea for six months, then departed for the United States on November 21, 1972 to initiate projects there. Before his departure, he emphasized, "Whatever hardships may befall us, we must accomplish the will of God without fail."
On his arrival in America, Reverend Moon convened the first International Conference on the Unity of the Sciences (ICUS), bringing together scholars and scientists at New York's Waldorf-Astoria Hotel from November 23 to 26.
Following in the tradition of his initial seven-city "Day of Hope" speaking tour that had begun in New York on February 3, 1972, a second speaking tour of twenty-one cities was held from October 1, 1973, to January 29, 1974, on the theme Christianity in Crisis: New Hope. During this period-on December 18, 1973-Reverend and Mrs. Moon's sons and daughters, Ye-jin, Hyo-jin, In-jin, Heung-jin, Un-jin, Hyun-jin, and Kook-jin Moon, moved to America.
Reverend Moon urgently initiated activities, shifting the focus of the providence to America. A third Day of Hope tour on the topic of The New Future of Christianity covered thirty-two cities from February 15 to April 20, 1974, and for a fourth, spanning eight cities between September 17 and December 23, 1974, Reverend Moon began in New York and visited Philadelphia, Washington DC, Atlanta, Chicago, Seattle, San Francisco and Los Angeles. This series of public outreach activities represented the full-scale acceleration of God's providence for the world.