This year the motto was also Let Us Become a Victorious Subject.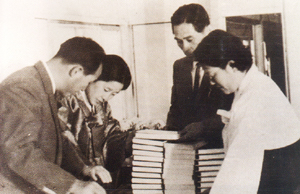 1966 was a year in which a grater diversity of missionary activities took place than in any other year, expanding the church's outreach into society. Such activities had been carried out sporadically in previous years as well, but from this year they became more vigorous.
The first of these activities was a campaign to double the membership in four phases, with results that surpassed the goal. The second was the inauguration of the Collegiate Association for the Research of Principle (CARP) on January 10, and the headquarters for the Supra denominational Christian Association on November 7. During a winter workshop for college students at which Reverend Moon spoke personally, he told the students to "make effort from now on to have a strong interest in the university environment and help awaken and rally the students who are wandering around without a clear direction." These words inspired the sixty-nine participating students to pledge that they would unite in heart and become leaders of the Principle movement in the colleges. This constituted the founding of the Collegiate Association for the Research of Principle (CARP). Moreover, a full-scale campaign of lectures countering communism was implemented nationwide, beginning with Kangwon Province, which contributed much to elevating the VOC ideology into one that would save the nation. Unification Church members in particular played a role in programs for the spiritual education of civil servants.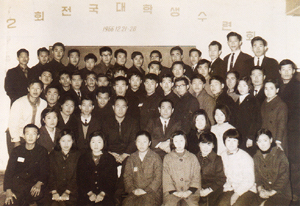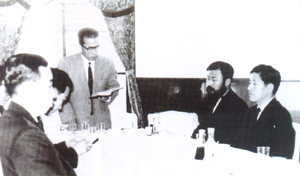 Looking back from the year 1966, which marked the end of the latter four-year period of the seven-year course, it can be said that the first three years were a period spent in search of the lost parents and children, whereas the remaining four years was a time in which a substantial foundation (restoration of the environment) end a foundation for the restoration of the Korean people was established. In order to accomplish the restoration of the Korean people, more people were needed. In order to respond to the providential circumstances through which the Korean people had been selected, power was devoted to the most important task for the Korean people and nation, that of opposing communism. It was a year in which all of the members united in heart and made effort to establish the two foundations.
Notable events this year included:

January 1: Reverend Moon's blessing of 120 Holy Grounds completed with seven in the Seoul area, three on this day.

January 5: Shimjung Candles bequeathed.

April 12: First spring seminar hosted by Koryo University CARP.

May 1: Publication of Wolli Kangron (later translated into English as Divine Principle).

July 16: First summer CARP workshop.