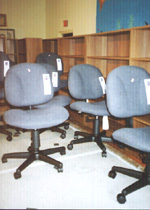 _________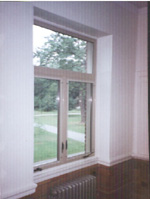 Many of the recent improvements at UTS were made possible by those alumni who have supported the Student Life Campaign. 72 new desks, chairs and bookshelves are now being used by the Junior Class. All of the senior study rooms have been redecorated, rewired and, where necessary, recarpeted. Also, the combined resources of the Student Life Campaign and the Institutional Services Department have covered the cost of replacing the windows in these rooms which will make them far more user-friendly this winter. These improvements involved the devoted attention of a lot of people, especially Dean Tanabe, Jonathan Brundrett, Tony Formby and Prince Tambi. To those who have not yet been able to make a donation - we urgently need your generous support.
There are major restoration projects for which funds are not yet available such as the gym floor (the gym is currently unusable) and the brothers' shower room where part of the ceiling has collapsed. With your support, the winter break will see as many improvements as this past summer. To those who have made a donation - many thanks. The Student Life Campaign will run until April 1997 so if your ship comes in during the next six months, please remember UTS!
---
*** Thanks also to the many of you who have sent smaller amounts. Our failure to print all of your names is due more to a shortage of space than to any lack of gratitude. Your support is deeply appreciated.

Donations to Student Life Campaign
$2000 or more Jeff Gledhill * Dr. Jae Kil Park * Anonymous
$1000 to $1999 Ki Yeal Lee * Anonymous * Blanche Palmigiano * Paul Hewett $500 to $999 Anonymous * Katie Daniels * Camas Lamond * Anonymous * Dr. Michael Mickler * Dr. Theodore Shimmyo* Dr. Jennifer Tanabe * Dr. Dietrich Seidel * Ute Delaney * Essie Zahedi * Tom Bowers * Scott Ferch * Chiyeko Marita * Seichi Okawa * Bob Selle * Gareth Davies
$100 to $499 Brad Anderson * Beat Bauer * Toshio Seki * David and Kathleen Burton * James Hewes * Camas Lamond * Tony Dempsey * Lloyd Howell * Serge Brosseau * Joseph Schrattenecker * Laurent Guyenot * Paul & Laura Reinig * Henry Schauffler * Jean Kasongo * Maria Dijk * Takeshi Furuichi