A Boat Comes Home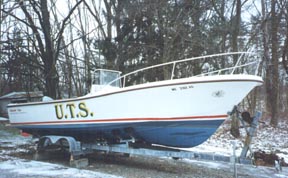 In the days when Seminarians regularly pursued the mighty bluefin tuna in the waters off Gloucester, Massachusetts, UTS was asked to add its own boats to the large fleet assembled there. Now, one of those Good Go boats has been returned by Ocean Church and will be available for this year's striped bass season. This is a timely arrival given Reverend Moon's recent emphasis on hobby and leisure activities. At a leaders' meeting in Brazil on January 3, he said "Some church leaders think that leisure and hobby activities are only side issues but they will be the main activity of the future." Only those who understand this "will be able to harmonize with the Kingdom of Heaven on Earth," he said. The Korean word "shin," (the rough translation is "hobby" or "enthusiastic involvement") implies not simply enjoyment, as in English, but total involvement, so much so that "you don't feel tired," he said.
Reverend Moon explained that he becomes so thoroughly engaged in an activity such as fishing that he feels he "was born for that task." In the future ideal world, anything that is not connected to the realm of hobby and fun "cannot be connected to Heaven," he said.
UTS students have always joined the Founder some form of fishing. In the early days, carp were the quarry of choice and in the 80's, new graduates went to Gloucester to fish for tuna. The class of '93 was able to spend the summer in Alaska fishing for salmon and graduates were again invited to Alaska last August for what will apparently be an annual gathering. In recent years, UTS students have traveled to Croton Harmon to join Reverend Moon as he goes after the annual run of striped bass up the Hudson.