New grads meet UTS veterans at Washington seminar

On the Sunday morning of July 5, one week after their graduation, members of the class of '98 boarded a bus for Washington to participate in the 5th Washington Times Workshop on Journalism and Media. In the capital, they were greeted at their hotel by Tim Elder (class of '77) and Ted Agres, deputy managing editor of the Times. The next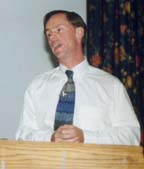 morning, the graduates toured the newspaper's facilities led by Ted Agres and Dr. Lloyd Eby (class of '77), assistant senior editor at the World and I magazine. This was followed by a visit to the production facilities building which houses the giant printing presses and the computerized color imaging division. The visit to the Times ended in the banquet hall of the main building where Wesley Pruden, editor in chief of the Times and Mr. Joo, president of the Times Corporation, spoke to the participants over lunch.

Upon returning to the hotel, the group assembled in a conference room to begin an elaborate six-day crash course in media and journalism. More than 30 presentations on all aspects of the field were presented by various experts who made skillful use of audio-visual aids and distributed printed materials on the topics covered. These included: Newspaper organization and work flow; circulation; design and layout; international legal issues; investigative reporting, media ethics etc.. The topic of commentary and op-ed was covered by Frank Perley (Class of '78) who has been with the Times since its founding in 1982.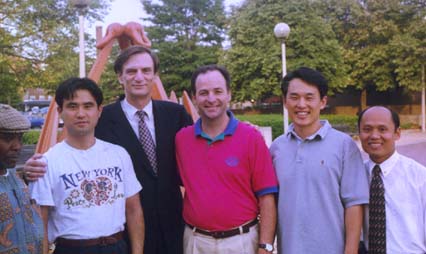 Ted Agres was able to mobilize the very best people associated with our media foundation in Washington in order to offer a very substantive workshop program. Listening to one presenter after another, the participants could only marvel at the depth and extent of this foundation established in only 16 years by our True Parents. Without a doubt the investment made to that end by our movement has been enormous. It was reflected in the quality and expertise of the presentations.

The last day of the conference included a tour of the state-of-the-art television and video facilities at Atlantic Video and a visit to the new interactive Newseum operated by Gannett News Corp.. Following a tour of the city's monuments, we gathered at a seafood restaurant along the river for our last meeting over dinner. Dr. Dae O. Son, assistant to Mr. Joo, spoke to the participants as certificates were awarded to each one who had completed the seminar. And so we concluded this unforgettable experience and began the long journey home to Barrytown.