| | |
| --- | --- |
| | Creating a World of Peace - The Thought and Works of Sun Myung Moon by Joon Ho Seuk |
Volume 1 - The Life and Teachings of Reverend Sun Myung Moon [Part 16 / 20]
15. World Peace Tours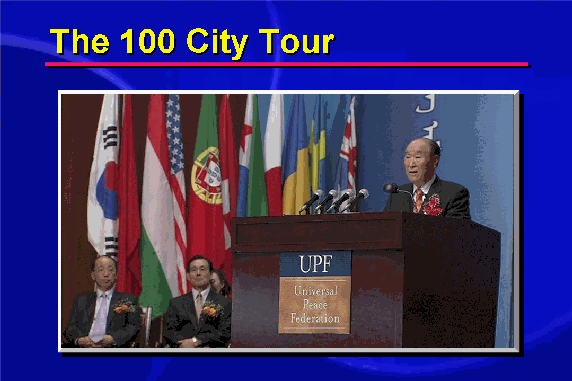 Immediately following the founding of the Peace Federation, Reverend Moon, at the age of 85, set out on a remarkable speaking tour that covered the globe and often featured different nations on consecutive days. The plan began quite modestly with the announcement, in September 2005, of a 12-city speaking tour in the United States. The tour began a mere eight days later.
It was during this tour that Reverend Moon announced his plan to tour the world, with speaking engagements in 100 nations. Even more impressive was his announced intention to complete the tour before the end of the year. The following is a report by Dr. Thomas Walsh, Secretary General of the Universal Peace Federation, on the event held in Mongolia:
One Day in a Remarkable Tour - October 16, 2005, Ulaanbaatar, Mongolia
.
Reverend and Mrs. Moon arrived in Mongolia, the 37th city and 4th nation on the 120 city peace tour, on Sunday, October 16. A red carpet stretched for 200 meters to the plane, and the Prime Minister's Director of Protocol was making sure everything was as it should be.
Former Prime Minister Enksaikhan, the Chief of the Cabinet, Mr. Bayartsogt, and several members of parliament had gathered to welcome the delegation. A police escort led the way as the convoy sped to the government's Palace residence for high-level guests. About 15 minutes from the airport, the road was lined with 3-4,000 young Mongolians cheering and waving flags and banners.
The main event was held in the Government Hall, which houses the parliament and Presidential offices.
Prior to the main event, a reception was held for the members of parliament, former presidents and prime ministers. About 20 members of parliament from among the 76 total members of the unicameral house attended. The first democratically elected President and his Prime Minister attended the reception as well.
The emcee for the main event was former Prime Minister and current MP, Enksaikhan. The preprogram included traditional Mongolian music.
The inaugural speech was presented in approximately one hour, with frequent interruptions by applause. Afterwards a number of new Ambassadors for Peace were installed. Member of Parliament, Dr. Idevhten said "Dr. Moon's main teaching is how to create an ideal family and in order to do so, one of the key factors is to inherit a family's vertical tradition that we have been keeping for thousands of years and to pass it through the next generations. I am very happy that I was given the Leadership and Good Governance award that calls me to be active for world peace."
Mr. S. Bayarsogt, MP and Chief Cabinet Secretary, stated, "This is Dr. Moon's first visit to Mongolia and it is very special that he has shared his ideas about establishing an ideal world. He initiated so many international activities, and we so much appreciate that many Mongolian leaders could participate in these conferences."
A Mongolian National TV report stated, "Dr. Moon, now 85 years old, born in North Korea, experienced a long time when few accepted his ideas. Nevertheless he has overcome this situation and is recognized as a man dedicated to goodness and peace. The whole world now knows that he is a rare person who spends every minute of his life for noble purposes."
The Zuunii Medee Daily Newspaper said "There was much movement in the government house yesterday as many gathered from all over Mongolia from every sector; political figures, famous persons in culture and arts, representatives of religious organizations. All came for one purpose, to hear Dr. Sun Myung Moon. When Dr. Moon stepped up to the podium his steps were light and easy, looking much more youthful than his 86 years of age. And so, the universal peace king and queen have visited Mongolia. They planted their seeds of love and harmony in the hearts of Mongolians."
Unuudriin Mongolia Daily said "Political leaders cannot resolve disputes and conflict... They focus on temporary solutions. However, religion is the eternal spirit. This is Rev. Moon's teaching. His teaching and activities are supported around the world. Dr. Moon has no time for leisure. He has been blessed with a body like iron and a set of goals that focus on living for the sake of others."
Uduurin Sonon Daily said, "Min. Bayarsogt and Minister of Health T. Gandi have applauded Dr. Moon for his continued peace efforts. Bayartsogt presented Dr. and Mrs. Moon with a gift on behalf of the Mongolian government.
The husband and wife team are traveling through the world as saints, doing great deeds."
Unuudur Daily says, "Dr. Sun Myung Moon is called many things...religious leader, politician, businessman, etc., but the title that fits is "universal man." Countless people told of their appreciation at the Great Hall yesterday as the government had invited him to deliver his famous speech here in Mongolia."
Following Dr. Moon's speech he was presented with a gift of two Mongolian horses.
Later that afternoon, Dr. and Mrs. Moon welcomed Prime Minister Elbegdorj to their suite. The Prime Minister had meet Dr. and Mrs. Moon on previous occasions in the United States when he was at Harvard University and in 1999-2001 he attended several seminars in Washington, D.C. Prime Minister Elbegdorj expressed appreciation for Dr. Moon's work for peace and his teachings, and their impact on him personally.
That same night a formal dinner for Mongolian dignitaries was hosted by the Moons, with time spent in informal talking, and a lot of singing. A traditional Mongolian musical group performed.