Twenty-One Years: Anniversary and Reflections
Sandra Schuhart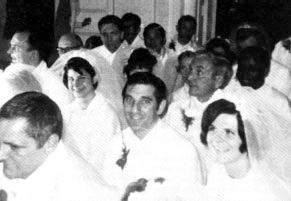 John and Sandy Schuhart (front right) participating in the first American Blessing Ceremony, February 28, 1969, in Washington, D.C.
On February 28, 1969, at the historic Upshur House in Washington, D.C., our True Parents blessed thirteen American couples representing the original thirteen colonies. On March 28, 1969, in Essen, Germany, eight European couples received their blessing. And on May 1, 1969, our True Parents blessed 22 Japanese couples in Japan. Together, all of these couples became the "43 Couple Blessing," representing the worldwide level of all nationalities and races to return to God.
This year, 1990, marked the 21st anniversary of the 43 Couples, and on March 31st, at Upshur House in Washington, D.C., this historic occasion was celebrated by those who could attend, coming from near and far, joining together as we did 21 years ago.
After numerous attempts to settle on a date that would allow a majority of couples to attend failed, a day was finally chosen, announcements sent out, and final preparations were made to welcome one and all.
For many of us, receiving the announcement sent our memories soaring into the past, recalling how limited, those many years ago, our understanding was of the responsibility of the blessing that we were about to receive. At that time we enthusiastically and joyously pledged to God and to True Parents our obedience, faithfulness, service and sacrifice to fulfill the ideals of the blessing. Our thoughts carried on from that daythrough the ensuing 21 years, experiencing the exultation of success and the pure agony of failure. We remembered the joys, the pains, the happiness, the sorrow of all that we saw, heard, felt, loved and even hated as we struggled step by step to fulfill our blessing.
On Saturday, March 31, as couples arrived; I first noticed the effects of time on our physical appearance! We were all so much older! We just didnít look as young, as beautiful and full of vitality as our Father and Mother. Yet, many of us were 10, even 20 years physically younger than our True Parents. Each coupleís struggles were etched clearly in their faces. But the love that bound us together so many years ago burst forth as we warmly greeted each other. After briefly catching up on our lives, we settled down to a most delicious meal and continued our joy of reunion.
The afternoon brought great excitement to us all, for we were able to see and be entertained by our children. No, not children, but young men and women, eager to please and bring laughter to our faces. How beautiful they were! How full of life! I wanted so much to say, "Thank you, Father and Mother, for giving us the blessing. We have fallen far short of great accomplishments that we can give to you, for we have not brought this nation of America to Godís side. We will continue the fight together with these precious young people and carry the banner of truth throughout this land of America, igniting the desire in one and all to return to the side of God."
As our young sons and daughters joyfully sped away to spend the remainder of the day apart from us, we ended the day in intimate conversation, drawing close once again in heart after so many years had elapsed. We talked of those who were no longer with us, those who could not come, and even those who left their blessing behind so many years ago. We talked of what was, what could have been, but mostly of what could be, of how much we still wanted to serve our True Parents. And to you, our younger brothers and sisters, please know how deeply grateful we are to all of you for your lives in service to God and to our True Parents. Thank you for your cards and gifts. But most of all, thank you for your prayers for our families through the years. Please forgive us for our failures, for our shortcomings. But know that we remain loyal sons and daughters of our True Parents. Older, but wiser 43 Couples. May God bless you all.


Download entire page and pages related to it in ZIP format


Table of Contents


Information


Tparents Home