To Americaís Heartland
Richard Karnowski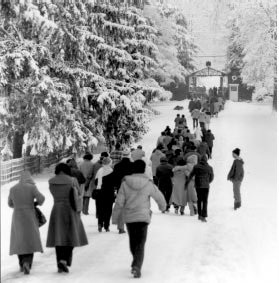 When the direction concerning the Hometown providence first came in the spring of this year, my wife and I called my parents to arrange a visit home in August when the Karnowski family has its annual reunion. My mission has been at the Seminary in Barrytown since April of 1988, in the financial office. Because of the importance of the Seminary and the lack of staff in the financial office, I did not see how I could possibly go to Kansas for the hometown providence. I did not have such a good relationship with my father, so I was not looking forward to this new direction. My wife and I, however, wanted to at least make our best effort to unite with Father.
I come from a very large family, the eighth of sixteen children; fourteen still alive. There were no multiple births and we all have the same father and mother -- both still alive, still together and still very much in love. Suddenly, after July first, there were several significant changes. First, the head of the financial office at UTS, who was working outside to get her CPA license, offered to come back to the office to work full-time until her baby was born. Then Dr. David S.C. Kim, the president and spiritual leader of the seminary, told me that I was not needed at the seminary now; I was able to go to my hometown. When I called my mother to tell her that we would be coming to the reunion, she said that we could stay with her and my father. My wife, our four children and I prayed for some miracle for the sake of our whole lineage, so that I could improve my relationship with my father.
We arrived safely and were warmly greeted by my parents. My younger sister was there also. She guided the conversation to the stormy relationship between my father and I. Then I opened up my heart, speaking clearly about my experiences over the last seventeen years in the Unification movement, and how they had helped me to work through many of the internal barriers I had encountered and that my difficult relationship with my father had a significant influence on my relationship with leaders in the movement. My younger brother had toldrather than as this concept I had of "Dad." I went on to say that I hoped that my father would do the same and treat me as a person rather than as the boy "Richard" they knew twenty years ago. My mother became all teary-eyed. My father said, "Letís go." So I went with him. I didnít ask him where we were going or what we were going to do. I just went with him.
Well, I found my father to be a really neat person. Wherever we went people knew him and treated him like he was a celebrity. I discovered that he was very respected by the people he met and I could see why. Here was a man who lived his convictions, and what very strong convictions they are! He is a very strong and tough man who has endured countless hardships. I remember when he used to go campaigning for Senator. I was only a child then and had only ridden in the car. But, most of the people not only remembered him but had maintained some type of relationship with him over the years. We talked a lot about philosophy and the problems of the world.
Somewhere along the way Dad found himself in his son, Richard, and he liked what he found. With such a big barrier overcome, my wife and I started thinking seriously about staying in my hometown. After searching for housing for several days, my father called my older brother and we went to look at his farm. He had bought it five years ago, spent one year renovating the house, and then recently bought another house, moving off of the farm. It had been vacant for most of the year. Barbara and I just loved it and my brother said we could stay there as long as we wanted. The gates of heaven were opening up and hometown was not only beckoning to us but was embracing us with open arms.
My older brother offered me a good-paying job so I could provide for my family. He said to start as soon as I want and work as long as I want. I contacted a local law school since I had been studying law before joining the church and though I might be able to take it up again. The school sent the necessary documentation to get me enrolled by next September. Barbara decided to stay in Kansas. As I boarded the bus back to UTS to break the news to the people there.
My biggest worry was breaking the lease on our apartment. It was rented until next February, and I would lose the deposit as well as cause bad feelings if I just packed up and left. When I told my landlady she said that she didnít blame Barbara at all. I promised to do my best to try to find a new tenant. Within a week the apartment was rented. That problem was solved. I then packed up an old van with some of our things, loaded up an old truck with my tools, hooked it up behind the van and headed back to Kansas. Most people said the van wouldnít make the 1,400 mile trip...but it did. And then I drove the van back through Chicago to New York again. It is loaded now and ready to go back to Kansas again. So much has happened since I started to plan to go to hometown that I felt I had to write it down and share it with brothers and sisters so that everyone will make the effort and let our Heavenly Father work.


Download entire page and pages related to it in ZIP format


Table of Contents


Information


Tparents Home